Living in Daytona Beach Florida and Things to Do
Phil Ganz
/
9 Min Read
/
Mar 19, 2022
Daytona Beach, Florida, maybe best known as the place where NASCAR was born, but it's also one of Florida's most exciting vacation destinations. This place is one of the top spots to live in the United States due to its idyllic weather, booming job market, and incomparable coastlines.
(Mar 25, 2023)
It's also one of the most popular tourist destinations on the east coast, drawing visitors from all over the world to its famous beachfront lifestyle, among other things.
If you're considering moving to Daytona Beach, FL, there are quite a few things you should know about living in the city. We've compiled this list of facts about Daytona Beach to get you up to speed on what makes Daytona Beach so special, including some of the intriguing things to do and the wonderful amenities available within the city. Read on to learn more about what you can expect in Daytona Beach.
Essential Things to About Living in Daytona Beach
Dayton Beach, Florida, is a city with a rich history and unique quirks that you'll learn about as soon as you start looking into the area and its culture. If you're planning on moving to Daytona, you should do your research to know what to expect when living in Dayton Beach, FL. It would be helpful to understand the following essential things before moving to this amazing place in the Sunshine State.
Weather and Climate
Daytona Beach is a beautiful, sunny community in central Florida. With warm temperatures all year long, plus just a short walk to one of Florida's most beautiful beaches, it's no wonder so many people want to relocate here. Most days are warm and sunny, with summertime temperatures varying between 50 and 89 degrees Fahrenheit and an average low of 70 degrees Fahrenheit in July and August. In January, it's about 72 degrees both day and night. Be sure to pack lots of shorts—and a sweatshirt or two.
Although seasons are clearly defined in terms of precipitation, there is no dry or wet period due to heavy rainfall during any time of year. In late summer and early fall, thunderstorms can occur daily, with up to two inches of rain per hour at times.
However, when planning your move, don't forget that Florida is an area where you should expect a hurricane or tropical storm at least once every five years. It doesn't matter what time of year it is—it could happen in November, June, or August. Due to its location on the gulf coast, there are many afternoon thunderstorms in Daytona Beach each summer; it's best to be prepared when these storms hit.
Transportation in Daytona Beach
While the public transit system in Daytona may not always be as robust as you might like, there are plenty of different ways to get around town—and all points beyond. A bus system serviced by Votran, a Volusia County's public transportation system, operates about 20 bus lines throughout Daytona Beach. It's also relatively easy to get around on a motorcycle. However, if you want to go far outside downtown, a car may be necessary. If you're only visiting Daytona, plan to rent a car—the city is spread out, and you can't walk or bike between points.
Education
A four-member school board provides public education in Dayton Beach. Residents are served by forty-five elementary schools, fourteen middle schools, ten high schools, two mixed schools (K-8 / 6-12), thirteen alternative/special centers, and eight charter schools around Volusia County.
Additionally, eligible college students can take out thousands of dollars in loans to pay tuition fees, books service, and living expenses. While these loans are typically not as risky as other kinds of debt—like credit card debt—they can still pose a risk if they're not managed well. Be sure to explore your options and research before signing on any dotted lines.
The department of education is one of the biggest employers in Dayton Beach. Teachers, counselors, and administrators are some of their biggest roles. If you're a teacher or someone who wants to work in education, you might be lucky to land your next job in Daytona Beach.
Housing options
If you're moving to Daytona Beach, you'll want to know about your housing options. There are plenty of mid-size apartments and townhouses available at reasonable prices in Daytona Beach. The average rental rate for an apartment is around $1,345 per month, making it easy for many people to afford to live on their own in a place like Daytona Beach.
While many vacationers opt for Daytona hotels, there are many other options besides those beachside resorts. If you're looking for a more affordable option, check out a condo rental or one of many area apartments and homes for rent. Just keep in mind that beachfront property will cost a lot more than staying just outside city limits, so factor that into your budget if you plan on saving money.
The real estate industry in Daytona has been a hot market for years and shows no signs of slowing down. If you're considering moving here, now is a great time to invest in real estate; however, there are a few things you should know before diving into it. Research is essential when entering any market—especially an active one as Daytona Beach real estate.
Health system
In Volusia County, public health services are provided through one agency, the Health Department of Volusia County. This organization has a range of services to aid residents in reaching their health goals. It is a great resource for anyone who needs help staying healthy, from immunizations to dental and vision care. Whether you're suffering from a mild condition like a common cold or something serious like cancer, the healthcare facilities in the city are always available to help you.
The healthcare system in Daytona Beach is generally good, with many hospitals within an hour's drive. If you have a serious medical issue and need to see a doctor, you should be able to do so in less than an hour after calling. The system offers some of Florida's best emergency services and urgent care options, meaning you can receive prompt treatment if needed.
Safety
If you're looking for a safe place to spend your vacation or live with your family, look no further than Daytona Beach. The city has very low crime rates, and in recent years there's been much fewer violent crimes than other cities its size. The beachside is relatively safe, with lifeguards on duty all year round. They patrol every two hours during summer, and when night falls, they use high-powered flashlights to check the swimmers. In case of an emergency, call 911. The city is also known for its 24/7 paramedic response system.
However, when you factor in that Dayton Beach is one of America's most popular vacation destinations, it makes sense to expect a bit of criminal activity from time to time. Rest assured, though, violent crimes are still exceedingly rare here. It's always a good idea to stay aware of your surroundings and go out with friends or family when possible.
Shopping
The biggest shopping district in Daytona is Seabreeze Boulevard. The area is lined with international brand names like Banana Republic, Gap, Pottery Barn, and Ann Taylor. If you enjoy outlet shopping, you will be pleasantly surprised by what Daytona offers. Daytona has a large outlet center that offers about 70 high-end retail outlets.
Head over to Daytona Lagoon or International Speedway Boulevard if you're into outlet stores. This strip has Polo Ralph Lauren, Armani Exchange, and Abercrombie & Fitch outlets. In addition to these retailers, there are also over 100 specialty shops and diners.
Thanks to a high influx of tourists, there are plenty of boutiques in which to peruse. Don't be afraid to bring your sense of style with you, though—while you can find lots of fashionable apparel and accessories here; there are also plenty of jewelry stores.
Restaurants and Hotels
There are numerous options for your eating and sleeping needs. If you're just in town for a few days and plan to eat out, there are plenty of restaurants that offer discounts and deals to keep your costs down. If you're staying at one of our many fine hotels, you have a wide selection of cuisines to choose from. No matter what your tastes, there is something here for everyone.
If you plan on coming down for Speedweeks, be sure to book ahead. Hotel rooms fill up fast around Daytona's most popular areas, including Daytona Beach Shores and Main Street in Daytona Beach.
Pet Laws in Daytona Beach
Florida is a very pet-friendly state, but those hoping to bring their furry friend along for an upcoming beach trip will want to check out Daytona Beach's laws. If you're a pet owner, you'll want to know about local ordinances and regulations. Generally, you must keep your pets under control 24/7 and on a leash when outside your home.
Although dogs and cats are welcome in some parts of Daytona, it's illegal to have a dog on any business premises that serves food. This includes restaurants, hotels, and cafes—so leave your pup at home if you want to chow down on some local BBQ or ice cream! However, several restaurants allow dogs at their outdoor tables.
Traffic Laws
As one of Florida's most popular tourist destinations, it's critical to familiarize yourself with traffic laws in Daytona Beach. The city has a few particular traffic laws you should be aware of. First off, if you're operating a vehicle in Daytona Beach, Florida, it's illegal to talk on your cell phone while driving unless it's equipped with a hands-free device. These rules are in place for your safety and well-being and can save you from a ticket—or worse—if you follow them carefully.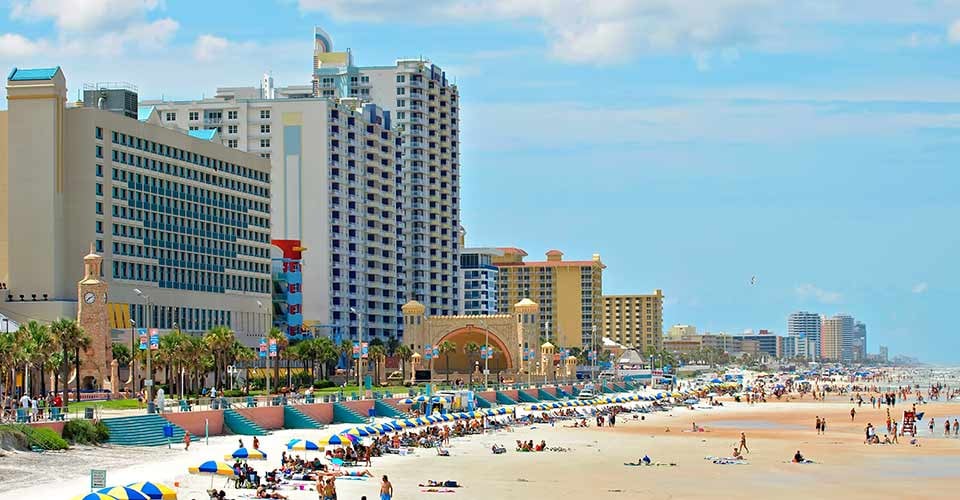 Fun Things to Do in Daytona Beach
Daytona Beach has long been one of the top vacation destinations in the country. This gorgeous Florida city has enough things to do and see to keep visitors and locals busy. Whether you have only a few hours or several days to spend here, there's always a fun thing to do. The city boasts white, sandy beaches and emerald waters perfect for swimming and sunning, creating a room for plenty of fun things to do that don't involve lying on the beach all day.
From parasailing to golfing and scuba diving to dolphin watching, here are some of the top things to do in Daytona Beach if you're looking for more than just sunbathing during your stay at this Florida beach town.
Visit the Daytona Museum of Arts and Sciences
The Museum of Arts and Sciences is a great way to spend an afternoon with your family. The museum houses thousands of artworks, as well as interactive displays that allow you and your children to learn about dinosaurs, nature, space, and other topics. From as low as $6 a person (free for kids under 5), it's one of the best deals for families looking for fun things to do in Daytona Beach.
Visit the Daytona International Speedway
One of America's most iconic racetracks, The Daytona International Speedway, features races year-round, including NASCAR's biggest race of all, The Daytona 500. The Daytona International Speedway was first built in the 1950s, and it serves as a racing venue for a variety of car types and classes. That said if you're aspiring to be a NASCAR driver or want some exciting times, head over to Richard Petty Driving Experience and drive a real race car around one of America's most famous racetracks.
Visit the Halifax Historical Museum
If you're looking for something exciting and different to do while staying or vacationing in Daytona, then don't miss a visit to the Halifax Historical Museum. As you explore its expansive grounds, you can learn about life during Florida's territorial period when settlers made their way from all corners of the world.
Visit the Tomoka State Park
Whether you enjoy biking, paddling, or simply exploring, there are numerous activities for you to partake in at Tomoka State Park. Two of their most popular trails include a 3-mile nature trail and a half-mile wheelchair-accessible trail. There's also a playground and picnic areas, meaning you can bring your children along. You'll also enjoy some beautiful views of sunsets over the Tomoka River.
Go to the Beach
Visitors can enjoy sandy and rocky shores at its beach, which also offers a wide range of things to do for beachgoers. If you're looking for a beach break but want something more than just sunbathing, check out some of your favorite water sports in Daytona Beach. If you wish to get wet or not, there are things to do for everyone. From paddleboarding to kayaking, swimming, surfing, and other beach games, you'll have a blast while staying fit.
Visit Jackie Robinson Ballpark and Statue
Jackie Robinson Ballpark and Statue is a great place for baseball fans to visit. This tourist attraction is a baseball stadium located in Daytona Beach, Florida. It's named after legendary Brooklyn Dodgers player Jackie Robinson. It hosts spring training games and regular-season games in April and May. On top of all that, it also has an impressive statue honoring Jackie Robinson himself.
Walk by the Daytona Beach Boardwalk and Pier
In downtown Daytona Beach, visitors can walk around and view some of Florida's most historic landmarks. The Boardwalk also has an amusement park and shops for souvenirs. If you plan on visiting during the weekend, be sure to check out their fireworks show. It's one of Florida's most beautiful displays.
Stop by the Daytona Lagoon
If you're looking for things to do in Daytona, Florida, make sure you check out The Daytona Lagoon. This water park offers fun for families with rides like Splashdown and Flyboy, plus family-friendly activities like a wave pool and lazy river. There is fun for kids of all ages, but adults will also enjoy lounging poolside while catching some rays.
The massive splash park will keep you and your family cool and entertained for hours. When you're done frolicking with your kids, check out all that is happening at nearby Ocean Walk Village, featuring live music at Pier 60. It's also home to a wide variety of shops and restaurants to choose from.
Stop by the Daytona Flea and Farmer's Market
On the second Sunday of every month, local vendors open their booths and sell various goods at discounted prices. When you get tired of shopping, stop by one of several food trucks on hand and enjoy a late lunch. There's more than just shopping at Daytona Flea and Farmer's Market, with fun activities like picking out fresh fruit and veggies and doing some outdoor barbecuing.
Bottom Line
Daytona Beach is an exciting place to live and visit, whether you're here on vacation or you've just relocated to the area permanently. This city has something to offer everyone, including its wonderful year-round weather and beautiful beaches, as well as its lively nightlife and several annual events. If you're thinking about moving to Daytona Beach, FL, or looking for things to do in Daytona Beach, take a little time to understand what it's like to live here.
Interested in learning about becoming a resident in Florida or moving there? Read more.