Miami, Florida Has Become a Popular Destination for Upstate NY Remote Workers
Phil Ganz
/
8 Min Read
/
Jul 15, 2022
Initially, the departure was to escape the restrictive Covid-19 measures. By July 2021, 33,500 New Yorkers had relocated to the sunshine state, and the number is only getting higher. Currently, almost 1,000 people take up residency in the sunshine state daily. These numbers indicate much more going on in Florida than surf and turf.
Dig in as we explore the top reasons remote workers from upstate New Yorker are finding life much more affordable in the sun-filled state of Florida.
No Income Taxes
Florida is among the nine states in the US that let you keep most of your monthly earnings. As a Miami resident, you're exempted from paying tax on your income. Moving to Miami allows a New Yorker to make considerable savings each year. Besides the federal income tax, New Yorkers are saddled with a 4% to 10.9% state income tax and an NYC income tax of 3.078% to 3.876%. The total amount you pay in taxes depends on your residency status, tax bracket, and filling status.
Moving to the sunshine state is guaranteed to lower your tax burden by at least 7%. With the average remote worker in New York making about $74,599, you can keep almost 10% of your income (5.97% + 3.876%). But the tax savings don't end there.
Since Florida makes the bulk of its revenue from the tourism booming tourist industry, the state can afford to lower tax obligations for the residents. The state doesn't levy taxes on inheritances and intangible goods such as investments. The state offers property tax exemptions of up to $50,000 to help you purchase your primary residence.
Affordable Cost of Living
Savvy New Yorkers are electing to take a permanent vacation on the country's best beaches while lowering their cost of living. Despite being a top tourist destination, Miami has a lower cost of living than pretty much the rest of the country. One of the perks of working remotely is that you can travel and work from anywhere.
According to MIT's Living Wage Calculator, you can comfortably live on $30,825 a year in Florida if you're single. Two adults can comfortably live on $49,864, while a single adult with two children can live comfortably on $79,126 a year. Two adults with three children and a single income can survive on $73,432 a year, while a family with two adults and three children and double income needs about $102,435.
Since the average remote worker in New Yorker makes almost $75,000 a year, they can afford to build a comfortable life in Florida. In contrast, New York is one of the most expensive places to live in. According to a SmartAsset Survey, a single person living in New York needs at least $66,434 a year to lead a comfortable life. Relocating to Miami allows remote workers to lower their living costs while raising their quality of life.
12 Months of Summer
Besides the beautiful sandy beaches, Florida is popular with tourists for its warm climate. Florida lives up to The Sunshine State moniker by delivering 250 sunny days every year. Your days will be characterized by lots of sunny days and gorgeous warm weather by relocating to Florida.
The 70 degrees daily temperatures make the state a tropical lover's paradise. While the summers are hot and humid, you'll be well isolated from freezing temperatures during winter. You can forget about winter altogether by moving to Southern Florida since the temperatures rarely fall below zero.
Like most tropical paradises, Florida has its fair share of severe weather. The warm and sunny days are interspersed with heavy rainfall, thunderstorms, and hurricanes. Moving here means swapping out your winter duds for a rain jacket and an umbrella, especially from June to November, which is the hurricane season.
World-Class Beaches
Florida is home to some of America's most beautiful and stunning white and sandy beaches. The state boasts more than 1,350 miles of white sunny beaches spanning across the Atlantic Ocean and the Gulf of Mexico. Setting up shop in Miami affords you the rare privilege of living by one of the most iconic beaches in the world. Nothing compliments the work from home movement more than the ability to work from the beach in a tropical paradise.
You can set up your mobile office on the white sandy beaches surrounded by the calming turquoise water and breathtaking scenery. You have a choice of three beach locations to choose from, so the view will never get old. The most popular beaches in Florida are spread across three areas – Panhandle, Gulf Coast, and the Atlantic coast.
After a long day at the office, you can take a quick refreshing swim, engage in water sports, look for seashells, build sandcastles, scuba dive, anything. There's never a dull moment while chilling on one of the world's pristine coastlines.
Boundless Outdoor Activities
You're practically living in a dream vacation destination as a Miami resident. The state is home to 8 of the best amusement parks in the US and 3 of the top water parks in the world. Therefore, you have enough outdoor activities to last you a lifetime. And then there are the islands.
The Key West and the Florida Keys are the most popular islands in Florida. They're the capital for boating, sportfishing, scuba diving, tropical cuisine, and snorkeling. These islands are home to various natural parks where you can connect with nature, family, and adventure.
The Dry Tortugas National Park lets you revel in the picturesque blue waters, beautiful coral reefs, and marine life. A quick trip by seaplane or boat takes you to the world-famous Fort Jefferson, a massive fortress built to protect the Gulf Coast during the Civil War.
Special Walt Disney Discounts for Residents
Disney World, one of the most iconic attractions globally, has a special treat waiting for you when you relocate to Florida. Besides enduring shorter lines, fewer crowds, and off-season access to Disney World, Floridians are entitled to generous discounts. Florida residents can snag up to a 40% discount on a 4-day ticket to the Walt Disney World Resort theme parks.
Want more than four days? You can secure all-year access with a Florida Resident Disney Pixie Dust Pass for $19 per month plus a $205 down payment.
Besides the magical Disney World, Florida has many amusement and theme parks. Busch Gardens, Universal Studios, Legoland, Dinosaur World, and Fun Spot America are some of the amusement parks awaiting your patronage. Florida water parks, including Aquatica, Adventure Island, SeaWorld Orlando, and Discovery Cove, mean all-year-round fun for the entire family.
Exceptional Cuisine
The weather, coupled with the proximity to the ocean, makes Florida the tastiest state in the USA. Miami is home to fabulous seafood restaurants and the tastiest fruits in the country. A visit to one of the numerous restaurants dotting the state lets you savor freshly caught seafood and freshly picked fruits. Florida accounts for more than 80% of American citrus fruits, so you're assured of incredible desserts and drinks with every meal.
Foodies can revel in the southern cuisine laced with the Caribbean and Latin flavors to keep your tastebuds tingling. Most local restaurants carry a diverse menu ranging from old Florida classics to international cuisine. Of course, there are plenty of your favorite fast-food restaurants and pizza places for when you need a quick bite.
Key Lime Pie, Florida Stone Crab, Conch Fritters, Cuban Sandwich, Gulf Oysters, and Gator Tail are some of the top eateries in Miami. Stop by Florida Orange Juice on a hot summer afternoon for some freshly squeezed juice from Florida's orange fields.
Vibrant Nightlife
Florida is renowned for its vibrant nightlife and endless parties. Miami and Orlando are infamous for their fantastic nightlife scenes. Whether you're looking for an authentic Cuban sandwich or a five-star dining experience, you're spoiled for choice. Dance the night away after a long day working from the white sandy beaches, home, or coworking space.
Some Florida cities, such as Fort Lauderdale, with 38 clubs and 57 bars, never sleep. You have plenty of options whenever you need to crown a milestone in your remote working career.
Beer lovers are in for a treat as Florida is home to more than 200 breweries, including 25 craft breweries. Wildly popular brews include Florida Cracker Belgian-style white ale, Jai Alai IPA, and various fruit-flavored ales.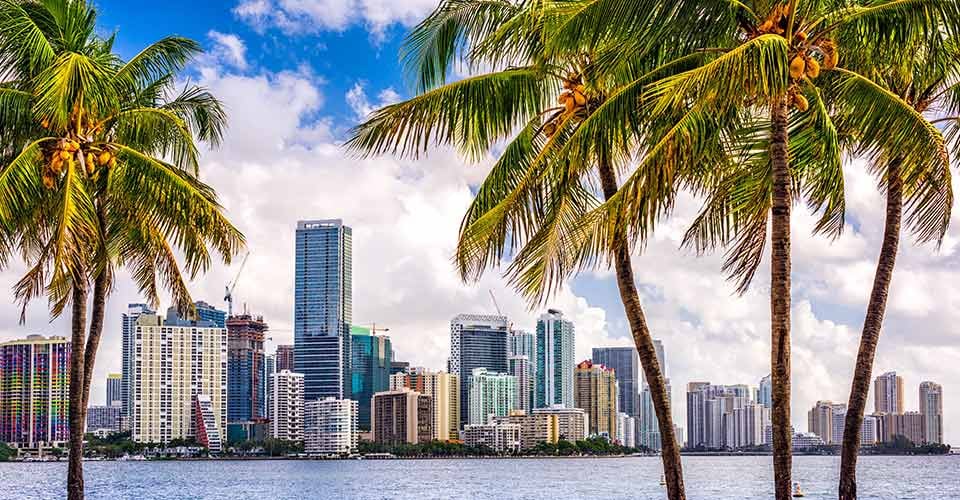 Booming Economy & Job Market
Florida boasts the 4th largest economy in the United States behind California, Texas, and New York. The state's $1.1 trillion Gross State Product stems from several top-performing industries, including defense & homeland security, tourism & hospitality, and real estate & development. These industries create a strong and vibrant job market for the state resident.
Florida's unemployment is currently lower than the national average, and they have remained so for the last 16 months. The state of Florida is the largest employer, with a workforce of more than 12.5 million people.
The state's strong economic outlook is creating more job opportunities each year. Between March 2021 and March 2022, Florida's private sector grew by almost 500k jobs, while the labor force grew by 325,000. Florida employers have consistently hired new workers over the last 23 months. Moving to Florida assures you of plenty of regular and remote working opportunities.
World-Class Education
Moving to Florida guarantees world-class education for you and your family. Florida's educational system comprises top-performing public and private schools. The state boasts terrific school districts and is home to top-rated universities.
The state has consistently outperformed the nation in 15 of 18 K-12 achievement measures. Over the last two years, Florida has consistently ranked second for improved high school graduation rates in the entire country.
Thanks to the state's considerable efforts to improve the education system, most school districts are above average. The St John's Country school district in St Augustine is the top district in the state. With 28 state and community colleges to pick from, your kids can pursue quality higher education without leaving the state.
A US News ranking places Florida in first place for higher education, attesting to the state's superior education system. The state has the second-highest graduation rate for a 2-year college course in the country.
Despite being top-rated, Florida has the most affordable college fee and tuition. Some of the famous universities in Florida include Florida Tech, which is ranked among the best universities nationally.
Vibrant Property Market
Florida has a solid and vibrant real estate market in the country. There's a high demand for property as more people move into the state to enjoy its fine weather and special tax breaks. If you're looking to buy your first home, relocating to Florida can help your home-owning dreams.
On average, more than 200K people move to Florida each year, creating a strong demand for houses. New housing developments are mushrooming in new and upcoming neighborhoods across the state. Houses in Florida are bigger and much more spacious, allowing you the space you need to set up a great home office.
The sustained demand makes buying real estate in Florida an excellent investment. The unyielding demand has steadily driven up the average Florida home price. As of 2022, the average Florida home will set you back $378K, marking a 33.1% hike from 2021.
However, Florida homes are still reasonably priced compared to other states such as New York, California, and New Jersey. The year-on-year price increase in Florida is only 9.8% compared to 14% in New York, 130% in California, and 32% in New Jersey.
Palm Coast, Kissimmee, Cape Coral, Orlando, Palm Bay, and Gainesville are the most affordable cities in Florida. The property offerings range from beachfront properties to condos, multifamily units, and mansions. There's also an option to move into gated communities or retirement homes. One of the highlights of moving to Florida is living by the water, but most homes come with a swimming pool.
A Sporting Paradise
If you're an ardent sports fan, you'll love moving to Florida because the state is home to professional and collegiate teams. You'll probably have a hard time picking a team because of the state's rich offerings. Love hockey? You can root for the Tampa Bay Lightning or the Florida Panthers in the national league.
Football enthusiasts may choose between the state's three NFL teams – Miami Dolphins, Jacksonville Jaguars, and Tampa Bay Buccaneers. Prefer basketball? There's Orlando Magic and Miami Heat. Visiting the Daytona International Speedway on Daytona Beach will crown your day if you're into NASCAR.
There's never a dull moment in Florida's sports fan sporting calendar. If you're into collegiate sports, there's plenty of deep-rooted university rivalry to keep you entertained for days. Still, there are many minor league teams to keep you entertained between the big games.
A Golfer's Paradise
Florida is a golfer's paradise and is fondly referred to as the world's golf capital. With more than 1,400 golf courses to offer, Florida is rooting for you to polish your golf game. The diversity means there's a golf course from every possible budget, so you can take on a new hobby without breaking the bank.
If you're an ardent golfing enthusiast, you may consider moving to Palm Beach County or its neighborhoods. The county is home to more than 160 golf courses.
The fine Florida weather and proximity to the ocean make for the perfect golfing atmosphere. Tee off in the perfectly manicured green by the waterfront to enjoy the cooling ocean breeze, calming blue waters, and breathtaking views.
Feeling a bit competitive? Florida hosts golfing tournaments all year round. You can even learn a thing or two by watching the Honda Classic at the PGA National Resort, home to some of the finest golf courses in Florida.
There's More to Miami, Florida than Surf and Turf
Besides the nice and lovely weather, Florida allows you to keep more of your hard-earned dollars while lowering your cost of living. Securing a location-independent job gives you greater control over your life and living arrangement. Seize this opportunity, grab a slice of Florida's sunshine paradise, and improve your quality of life.
The sunshine state allows you and your kids to attend some of the prestigious universities in the country without saddling you with expensive student loans. Consider relocating down to Miami, Florida, and improving your life quality if your job allows!