PCS to Blount Island Command Marine Corps | Florida
Phil Ganz
/
8 Min Read
/
Dec 12, 2022
At a minimum, getting a Permanent Change of Station (or PCS) order usually requires intensive packing, moving household goods, meeting weight limits, and making meticulous travel arrangements.
In most cases, it also means getting cut off from the military community and relationships you may have formed at your current station. That being said, there are specific steps you can take to make sure your transition to your new command station is as seamless and comfortable as possible.
So, in this complete guide, you'll learn everything you need to know about PCS orders, including how the process works and how to prepare for the move.
What Are PCS Orders?
If this is your first time receiving a PCS order, you might be confused about what it all means. PCS moves are long-term relocation orders for assignments lasting 20 weeks or more. You can expect to receive a PCS order 2.6 times throughout your military career. However, it's not uncommon for some military members and their families to receive PCS orders up to 6 times or more during their careers.
PCS orders typically fall under two categories - CONUS and OCONUS. The military acronym CONUS refers to PCS moves within the "Continental United States," whereas OCONUS refers to those "Outside the Continental United States."
Whichever the case, moving can be an arduous and expensive process. Fortunately, the government covers most, if not all, of the expenses related to PCS moves.
PCS Move Options
Several options are available, depending on whether you're moving to a different duty station within the U.S. or relocating overseas.
CONUS Moving
The two main moving options that you can pursue when moving within the U.S. are:
Let The Military Handle The Packing and Moving (HHG)
As highlighted earlier, moving to a new command post can be very expensive and overwhelming. So, if you've received a PCS order to another part of the U.S., you might consider letting the military take care of the packing and moving process.
You'll need to request the United States Transportation Command to schedule your move. The military will then work with a Transportation Service Provider to arrange for the packing and shipment of your household goods (HHG) to your new command station.
It's worth noting that weight restrictions on your shipment will depend on your rank, and there are also limitations on what items you can include in your shipment. For instance, if you wish to bring a pet to your new duty station, you must do that at your own expense.
Personally Procured Move (PPM)
A personally procured move (PPM), also known as DITY, is a moving arrangement where you move your belongings and are reimbursed by the government.
You're eligible for this program if you make a Permanent Change of Station, Temporary Duty (TDY) Temporary Additional Duty (TAD) move. It's worth pointing out that this program is entirely voluntary, so you're under no obligation to pursue it if you're not willing or able to.
Adopting the PPM option might not seem like a very worthwhile option at first glance. After all, this option requires you to take care of the moving arrangements and expenses yourself rather than having the government do it for you.
That being said, making a PPM move offers several benefits you may not receive when pursuing a standard military move. These include:
It Can Be More Cost-Efficient
If you decide to do a PPM, the government will reimburse you up to 95% of the amount it would cost for the military to move you through a TSP. In addition, you're eligible to receive the standard travel allowance for yourself and your family.
Consequently, you can keep the remaining amount if you spend less on the move than what the government offers you. Suppose you take advantage of discounts offered by moving companies; you might have quite a bit of spare cash at the end of your move.
It gives You Greater Control Over Your Move
While it can be nice not to worry about the hassle of moving when the government is taking care of it, many military members have reported less-than-ideal experiences when they let the government handle their move.
By contrast, a PPM move gives you complete control of your move every step of the way. You alone can choose which moving services you require and how much you want to be involved in the process.
OCONUS Moving
If you're an active duty service member relocating overseas, your move is considered OCONUS. In this case, the weight restrictions on your belongings will vary depending on what part of the world you're moving to.
Fortunately, if you're subject to administrative weight restrictions, the storage of your goods in the U.S. will be covered by your regular allowance.
It's worth bearing in mind that you may also be subject to other restrictions when moving overseas. For instance, some countries may not permit the importation or possession of personal firearms.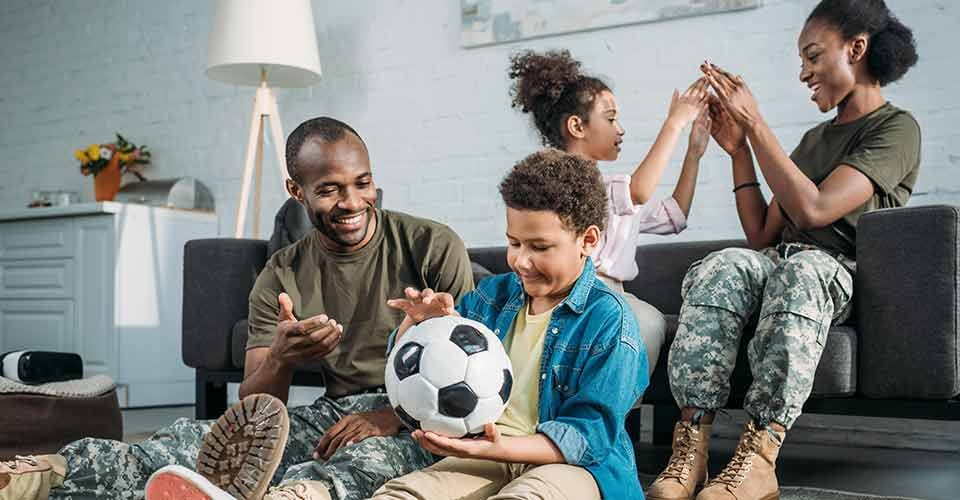 How To Prepare For A PCS Move
If you're readying yourself for a PCS move, chances are you have plenty of planning and organizing to do. While the process of relocating to a new command station might seem daunting, there are several things you can do to make it less of a headache.
Here is a step-by-step guide on how to prepare for your PCS move the right way so you can make the transition as smoothly as possible:
Begin The Process Immediately
The time frame for active duty service members to receive their PCS orders can vary from two weeks to five months before the date they are expected to report to their new command post. No matter where you fall in this time frame, it's critical that you start the process of moving as soon as you receive your PCS orders.
You need to start early if you're PCSing during the peak season, which runs from May to August. This is because these months can get busy, and you might find it challenging to get the pickup and delivery dates that you may want.
Also, the fact that offices are often woefully understaffed and orders may be delayed during this period makes it even more critical that you start early.
Choose The Right Moving Option For You
As indicated earlier, there are two types of PCS moving options that you can choose from when relocating to a new command post. You have the option of an HHG move, whereby the military handles all your packing and moving, or the PPM option, where you orchestrate the move yourself and are reimbursed by the government.
Whichever moving option you choose, there's plenty of paperwork you'll need to do. So make sure you save all your receipts. You'll also need to balance out your finances once you arrive at your new duty station.
Research The Military Installation That You're Moving To
If the new base that you're moving to is within accessible range, you might want to consider driving there to check it out.
However, if this is not possible because you're moving overseas, for instance, you should check military.com's base guide to find out more about the area you're moving to.
Terminate Any Leases and Bills
If you've been living in off-base housing at your current posting, you must close out all leases, bills, and local memberships before your move date.
Check your credit card statements to see which subscriptions and memberships you may have, such as energy autopay, services, gym memberships, and water billing.
Once it's time for you to close out your lease, bring your spouse's PCS order to the front desk to avoid any penalties and early termination fees.
Make Arrangements For Your Pet
Although you may be allowed to bring along your pet when moving through an HHG transportation option, this expense is generally not covered. So, if you wish to move with your pet, you'll need to pay for this expense out of your pocket.
If you're not able to bring your pet to your new posting, make sure to find a new home for them before the day of the move.
Decide What To Do With Your Privately Owned Vehicle
If you're moving overseas, the government will cover shipping one of your privately owned vehicles (POV) to your new station or storing your vehicle in-state.
On the other hand, shipping your car isn't covered if you're moving to a different part of the U.S. since it's assumed you can drive it to your new base. You'll still be allowed to include motorbikes, boats, and other recreational vehicles as part of your overall weight allowance.
Make A PCS Binder
When preparing for a PCS move, creating a PCS binder containing all the important documents you'll need at your new station is recommended.
Some of the documents to include in your binder are - birth and marriage certificates, power of attorney, health records, school records, insurance documentation, title deeds, and military orders.
How To Pack For A PCS Move
When preparing for a Personally Procured Move (PPM), you typically have to do all of the preparation yourself, and unless you've got plenty of help, chances are you're in for an arduous process.
But just because packing for a PCS move can be intensive doesn't mean it's not doable. The most important thing is to have a solid plan for the packing process.
Here are a couple of tips on how to pack for a PCS move:
Get Yourself Organized - Some things you'll need to do to get organized in anticipation for your PCS move day include making an inventory of your valuable items, documenting the condition of your household goods before the move, and saving money to use for the moving expenses.

Conduct a Pre-Packing Purge - When preparing for your PCS move, get rid of any junk you may be hoarding at your current residence. This will help you keep your overall weight limit down.

Procure The Right Packing Material - You want to ensure that all your valuable and fragile items are safe during the moving process. So make sure you get sturdy packing boxes and use good bubble wrap for breakable items.

Don't Hesitate To Ask For Help - Packing for a move can be a very tiring and time-consuming process. So, if you're fortunate enough to have friends or family members willing to help, don't hesitate to accept it.
Off-Base House Hunting During PCS
One of the most significant decisions you'll have to make when PCSing is deciding where to live if there's no on-base housing available for you at your new station.
So, before your move date, you must conduct pre-PCS house hunting so that your family can settle in quickly and comfortably once you arrive at your new installation.
Here are a few valuable tips to aid you in your off- base house hunting process:
Enlist the help of a realtor who knows the neighborhood well and is willing to help you in your search.

Do your due diligence on the neighborhood you intend to move to. Some factors to consider include commute time, schools, amenities, and other family concerns.

Make sure your realtor knows all the requirements you're looking for in a home or apartment.

Carve out time from your schedule to conduct property viewings.
Best Places To Live Around Blount Island Command Marine Corps
Blount Island Command Marine Corps is situated on the banks of the Blount Island Channel, which comes off the St. Johns River.
If you've received a PCS order to this military installation and are looking for off-base housing, here are some of the best neighborhoods to check out:
Beacon Hills and Harbor Neighborhood
Beacon Hills and Harbor neighborhood is a popular community that offers various styles of homes. Whether looking for a Ranch-style home with a large lot or a single one-story brick home, you're guaranteed to find plenty of options in this neighborhood.
To get to Beacon Hills and Harbor from Blount Island Command, go south on I-295, then branch east on Highway 116. The journey takes only about 10 to 15 minutes by car.
Chandler's Crossing
Chandler's Crossing is a neighborhood located north of Blount Island Command. The development of the area stretches back 90 years ago, with many custom homes being constructed here. The median home price in Chandler's Crossing is $202,976, while the average monthly rent is $1,502.
Little Marsh Hill
Little Marsh Hill is a quaint neighborhood located east of Blount Island Command. Most homes available here are either one-story brick homes or Ranch-style homes, although there are also several luxury mansions and colonial-style homes.
Rent prices in this neighborhood are pretty steep, with the average monthly rent coming in at $2,109 while the median home price is $306,746.
San Mateo
The neighborhood of San Mateo is known for its modest tract homes, most of which are either three or four-bedroomed. Various styles of architecture are represented here, including single-story brick, colonial, contemporary, and Mediterranean villas.
The median price of a home in San Mateo is $211,197, whereas the average monthly rent is $1,600.
A Final Word
Let's face it, moving to a different command station as an active duty service member is never easy. While the prospect of experiencing new places can be fascinating, moving is quite intensive and draining.
If you've received your PCS order to Blount Island Command, preparing your move early will ensure a relatively seamless transition to your new station. Make sure to visit your installation's transportation office as soon as you get your PCS order to get a relocation briefing and start house hunting before your move date is due.