Comparing the Best Montessori Schools in Florida
Phil Ganz
/
9 Min Read
/
May 14, 2022
How can you tell which are the Best Montessori schools in Florida? If you're here, then it's likely that you have a child who has expressed interest in attending a school with a Montessori program. Congratulations! We are sure you'll find just what you're looking for here in this list of the most respected and highly-regarded schools.
(Mar 25, 2023)
Why Montessori for Your Kids
Montessori children learn through play, and they don't have to learn things they aren't ready for. Montessori schools don't teach a standard curriculum that includes reading and writing at specific ages.
Instead, they have the curriculum tailored to the needs of each child and based on their innate learning style and rhythm.
Montessori develops life skills
Just because a child is young doesn't mean she isn't capable of learning many different kinds of life skills at a young age — and the Montessori Method is designed to help children develop these skills through play, exploration, and interaction with others.
The classroom environment encourages your child to practice using various practical life skills like cleaning up after himself or pouring water from one container to another without spilling any. These skills are important for developing self-reliance and self-sufficiency later in life.
Montessori cultivates happiness
Happiness should be a goal for all of us, and it's certainly a goal for all parents when it comes to our children. The Montessori Method builds confidence, self-esteem, and a sense of fulfillment that leads to happiness.
As soon as your child walks into the classroom, you'll see that she's in a place where she can be carefree, happy, and be herself.
Montessori promotes independence
Children learn how to work independently and in groups within the Montessori classroom. They are encouraged to make their own choices, which helps develop their problem-solving, critical thinking, and decision-making skills.
Rather than being the teacher who shows kids what to do and tells them what to learn, the Montessori guide helps kids discover things for themselves.
Montessori encourages social skills
Children at Montessori schools in Florida have many opportunities to interact with one another and learn how to get along with others, share ideas, negotiate and resolve conflicts peacefully.
This will help him develop his social skills by talking to others, cooperating with others, or discussing the lesson at hand with other kids.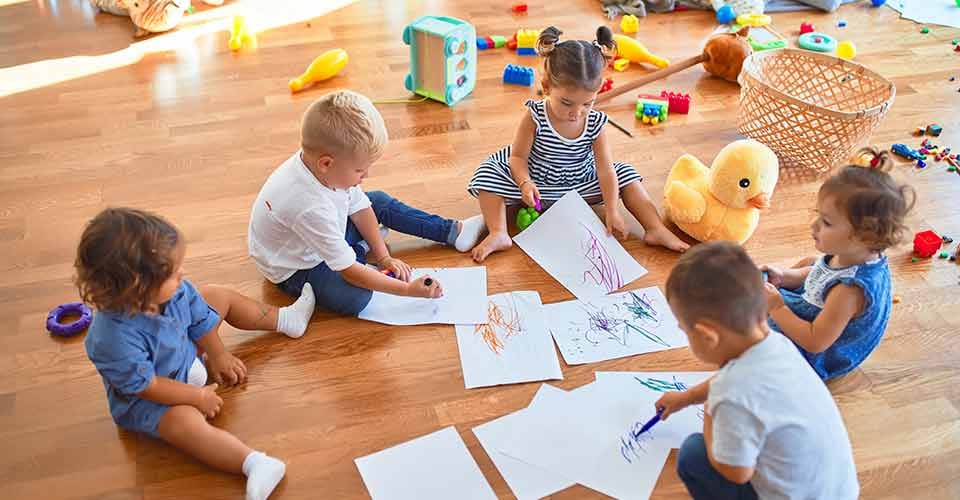 The Best Montessori Schools in Florida
The best Montessori schools are not necessarily the most expensive or the most prestigious, but they offer high-quality education. A high-quality Montessori school provides a carefully prepared environment, well-trained teachers, and a curriculum consistent with Dr. Maria Montessori's principles of early childhood education.
Let's look at some of the best Montessori schools in Florida. Even if you don't live in Florida, consider it a source of ideas for the qualities to look for in any Montessori school.
Seeds of Life Montessori Academy
Seeds of Life Montessori Academy provides education for children ages 2–12. In its early years, Seeds of Life Montessori Academy was one of the first schools in Florida to receive accreditation from the Southern Association of Colleges and Schools. Today, Sarasota Montessori has an accreditation from the American Montessori Society (AMS) and is a member of the Association of Independent Schools of Florida (AISF).
Seeds of Life Montessori Academy offers four programs: Toddler (ages 18 months-3 years), Early Childhood (ages 3-6 years), Lower Elementary (grades 1-3), and Upper Elementary (grades 4-6).
The cost of tuition is $11,000 per year for kindergarten, $16,000 per year for first grade, and $8,400 per year for second grade through eighth grade.
Sunshine Montessori School
Sunshine Montessori School was founded on May 3rd, 1995, by Maria Lourdes Arbelo with a vision to create a place where children could experience learning in an environment that would nurture their unique spirits and individual learning styles. The school has grown from 12 students to more than 200 students, with an additional 120 students in our Before/After-School Program.
Sunshine has affiliations with the National Association for the Education of Young Children (NAEYC). Unlike Sarasota Montessori School's four programs, Sunshine Montessori offers three programs: Toddler, Primary, and Elementary.
Sunshine Montessori School is slightly more expensive than other Montessori Schools in the region. You can expect to pay about $16000 per year for elementary school kids and $17 250 for junior high programs.
Children's House Montessori School
Children's House Montessori School offers a Montessori program for children as young as 18 months and another preschool, afterschool, and summer camp program. Classrooms have Montessori learning materials. The school also provides music and art classes and the core curriculum.
Children's House Montessori is cheaper than Sunshine Montessori School by about $6000. Full-day tuition is $1050/year for a five-day school week for toddlers and $10100 for primary and elementary school kids.
Curriculum - Language Arts, Math, Science, History and Geography, Practical Life Skills, and Cultural Subjects.
Length of the school day - Full Day 8 am–3 pm; Extended Day 7 am–6 pm.
Location - in-town neighborhood of Deland, Florida.
The School For Young Children
The School For Young Children is a fully licensed Montessori school that has certification from the Southern Association of Colleges and Schools (SACS) and is a member of both the American Montessori Society (AMS) and the Florida Montessori Council (FMC).
Located on 5234 S MacDill Ave, Tampa, FL 33611, they offer an authentic Montessori program for children ages two through six. Their goal is to provide an environment that encourages independence and self-discovery to nurture your child's total development.
The School For Young Children is costlier than all the previously reviewed schools. Expect to pay about $625.00/month for one child and $90 additional per month for each sibling.
Treasure Village Montessori School
Treasure Village Montessori School is located in Islamorada, FL. The school serves children ages 3 through 6, who are given a unique learning experience that integrates Montessori principles with traditional approaches to education.
For more than 40 years, the school has served children from 3 to 12 years old and their families. In the Lower Elementary class, the children continue on a path of joyful learning. They explore the world beyond their immediate community with geography, history, and science studies.
During their second year in Upper Elementary, your child will continue to build their academic knowledge base while sharpening their curiosity and honing their organizational skills.
Students are encouraged to become active participants in their education process, emphasizing developing self-esteem and interpersonal skills.
Treasure Village Montessori School, Inc. is a nonprofit organization governed by a Board of Directors representing the community.
Treasure Village is a free public school, unlike Sunshine and other Montessori schools earlier reviewed.
They have a PTO that works diligently to raise funds for school improvements, technology, books and supplies, and other needs identified by the school's faculty and staff. The PTO also supports many student activities that make TVM so special, such as field trips, assemblies, and the arts.
The school has an open enrollment policy throughout the year, accepting applications on a first-come, first-served basis for available openings.
Montessori Academy of Celebration
Montessori education is an alternative approach to early childhood education that aims to develop each child's intellectual, social, physical, and emotional skills through individualized learning. At Montessori Academy of Celebration Florida, students are encouraged to pursue their interests and learn at their own pace without limitations.
The Montessori philosophy of education was developed by Maria Montessori over 100 years ago. The Montessori Method emphasizes independence, freedom within limits, and respect for a child's natural development.
This year, Montessori Academy of Celebration Florida offers the Early Childhood Education Program for children ages three to six years old. For elementary students aged 6 to 12 years old, there is the Lower Elementary Program and Upper Elementary Program. There is an afterschool program available, as well as summer camp options.
Montessori Academy of Celebration Florida is a private school offering small class sizes with a student-teacher ratio of 10:1. Tuition for the 2021-2022 school year ranges from $6,300 to $11,000, depending on your child's age and how many days they attend school per week.
Palma Ceia Montessori School
Palma Ceia Montessori School (PCMS) is a private Montessori school in Tampa, Florida. The school serves children ranging from 18 months to ninth grade. PCMS has approximately 620 students enrolled in their elementary and middle school programs.
The school accepts children from a variety of socioeconomic backgrounds. Over 40% of the students receive some form of financial aid to offset the cost of tuition.
Additionally, Palma Ceia offers an Early Childhood Education program for children as young as 18 months. This program is available for full-time as well as part-time students. Expect to pay slightly more than Westside Montessori Academy. Tuition costs $10,825 to $15,155.
Palma Ceia Montessori School has a student ratio: of 10 students per teacher. Their curriculum includes academic and enrichment programs that combine the traditional Montessori Method with the International Baccalaureate (IB) Primary Years Program.
The curriculum focuses on the development of the whole child through self-directed learning. Afterschool programs are also available for children in grades one through six.
The Montessori School of North Miami
The Montessori School of North Miami provides an authentic and comprehensive educational program for infants, toddlers, and children. In addition to the traditional academic program, the school also includes Spanish, music, physical education, and computer science in its curriculum. The school is located at 1550 NE 131st St., North Miami, FL 33161.
The private school tuition is $10,800, which is the same price as the other schools listed here. Montessori of North Miami has an average student-teacher ratio of 10:1. The student-teacher ratio for private schools is reported directly by the school.
The student-teacher ratio for public schools is calculated based on the number of full-time equivalent teachers reported by the school, so the actual student-teacher ratio for these schools may vary.
Their highly qualified staff provides an environment rich in materials that help children develop at their own pace and according to their interests. Children are encouraged to explore these materials as they learn about themselves, their world, and their community in an atmosphere that stresses respect for others, self-discipline, and responsibility.
Lakeland Montessori Schoolhouse
The Lakeland Montessori Schoolhouse provides a safe and positive learning environment where children can learn through exploration and discovery. The school offers programs for children from 18 months old to high school age with small class sizes of no more than 12 students per teacher.
The school provides an environment that is conducive to learning and the facilities necessary to help your child grow into a well-rounded individual. Students get an opportunity to participate in several extra-curricular activities on campus, including gardening, art and music, soccer, karate, and yoga.
The tuition fees at LMS are quite low compared to other schools offering Montessori education in the area. For example, if you enroll your child in a full-day kindergarten program for five days a week, you will need to pay $10,200 for the entire academic year (excluding the registration fee, which is $100).
Florida Montessori Academy is another private school that offers programs for children from 18 months old up until eighth grade.
Florida Montessori Academy
The South Florida Montessori Academy is part of a growing number of schools in the area focusing on early childhood education. The academy focuses on a child-centered approach to learning and development and the principle of respecting each child's natural learning style and ability. The school employs the principles of Maria Montessori, designed to promote independent learning and self-sufficiency in children.
The academy is open throughout the year, but it is closed for all national holidays. A typical school day lasts from 8:30 am until 3:30 pm, and students may choose either full-day or half-day enrollment.
The school offers an extended day program for students who wish to remain at school until 5:30 pm. In addition, they offer a summer program for students who wish to continue their education throughout the summer months.
The academy offers a nature-based learning environment focusing on cognitive, emotional, and physical development. Full-time tuition for children aged three to six can range from $6,000 to $8,000 annually, making it one of the state's most affordable private Montessori schools.
Students must be two years old by September 1st of the current year to apply for admission. You must submit your application before April 1st to reserve a space in the upcoming fall semester.
Temple Beth El Early Childhood Learning Center
Temple Beth El Early Childhood Learning Center is a center-based child care facility located in the serene Florida city of Boca Raton. A Jewish educational institution ensures your child has the best educational experience while under their care. There are two programs at the institution; the first is the infants and toddlers program, and the second is for pre-K students.
They emphasize the importance of learning through play and offer an enriched Montessori curriculum designed to foster creativity, independence, confidence, and social skills.
Temple Beth El Early Childhood Learning Center accepts children between six weeks to five years, and it accommodates up to 90 children. The facility has a teacher-student ratio of 1:5 and an average tuition fee of $12,000 per year.
For infants, the school offers extended daycare and part-time preschool. Preschoolers can choose from a half-day or full-day program. The kindergarten program runs from 8 am to 1 pm, with an optional afternoon enrichment program until 3 pm.
Coral Springs Montessori Academy
Coral Springs Montessori Academy is a private school located in Coral Springs, FL. It has 304 students in grades PK, K-8 with a student-teacher ratio of 13 to 1. Tuition is $10,800 for the highest grade offered.
After graduation, 90% of students from this school attend a 4-year college. Compared with other schools in Florida and nationwide, Coral Springs Montessori Academy ranks better than 91% of students in Florida and 85% of students nationwide.
Over the past ten years (2010-2019), the average acceptance rate has been 100%, whereas last year's rate was 100%.
Bezos Academy Montessori Schools
Jeff Bezos announced the expansion of his preschools, called The Bezos Academy, into Florida communities in 2022.
The school system that grew from his childhood Montessori education will open five locations throughout the state. Bezos said he hopes to hire 1,000 educators and support staff "to serve thousands of children."
His school's curriculum focuses on the developmental domains of social and emotional development, language development, physical development, and cognitive development.
The academy will open at two campuses: one near the Walt Disney World Resort in Orlando, Fla., and another in Palm Beach Gardens, Fla., near the headquarters of The Bezos Family Foundation.
Bezos Academy is a tuition-free group of schools that target low-income communities. The schools have a student-teacher ratio of 10: 1.
Conclusion
Overall, the potential benefits of Montessori schools in Florida on a child's development look promising, and the schools included in this ranking are amongst the best in the country.
However, whether or not you choose to enroll your child at one of these schools is another matter. Enrolling a child in an alternative educational setting without considering their emotional and social needs could ultimately have damaging effects.
Before enrolling your child in any school, make sure that you consider all possible outcomes and always put their needs above all else.