How to Make Money As a Realtor with the Florida Hometown Heroes Program

By Phil Ganz

Edited by Ryan Skerritt
7 Min Read
Nov 12, 2023
Understanding the Florida Hometown Heroes Program
The Florida Hometown Heroes Program is a pivotal tool for realtors, offering significant down payment assistance, and accommodating a wide demographic, which includes first-time homebuyers and veterans.
Realtors who effectively understand and promote this program, especially tailoring their strategies around its key features, can significantly boost their success and stand out in the competitive marketplace.
Program Eligibility Requirements
Eligibility criteria play a crucial role in identifying potential clients for the Florida Hometown Heroes Program. Key factors include first-time homebuyer status, a minimum credit score of 640, income restrictions, and Florida employment.
The Florida Hometown Heroes Program is accessible to veterans at any time, expanding your client base beyond first-time homebuyers.
Understanding income parameters is critical for your realtor business. Clients' income must be less than 150% of the area median income, ensuring the program targets those truly in need and prevents potential deals from falling through due to ineligibility.
Upcoming Changes and Funding Increase
An increase in Florida Hometown Heroes Program's funding to $35,000 will expand the pool of potential buyers. Realtors can look forward to a surge in transactions as more Floridians qualify for homeownership.
Realtors stand to gain directly from these changes. As the program's funding increases, more transactions become viable, leading to enhanced commissions and a broadening client base.
While detailed allocations for 2024 remain undisclosed, anticipation of more information by next summer presents ample opportunity for realtors to prepare and strategize accordingly.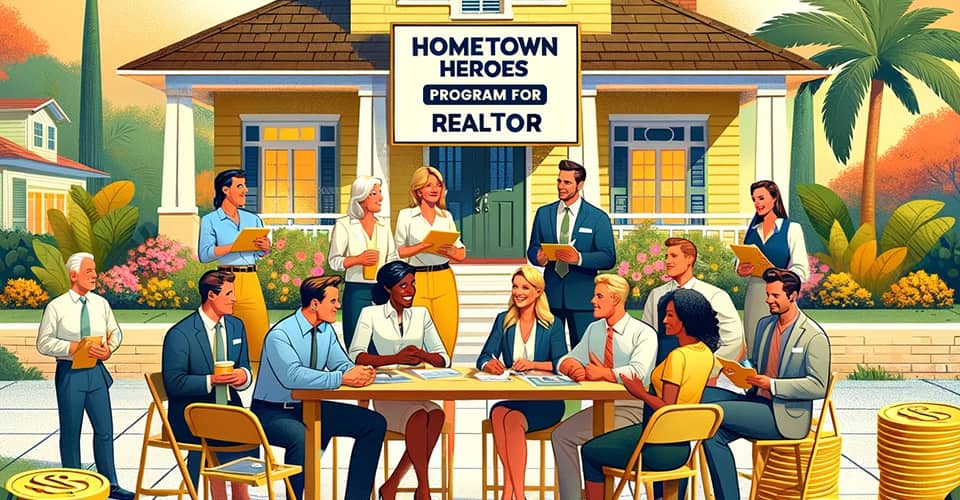 Identifying Eligible Clients
To successfully navigate the Florida Hometown Heroes Program as a realtor, a keen understanding of eligible clientele is imperative.
Identifying potential homebuyers such as those who are gainfully employed, first-time homeowners, and veterans can significantly boost your business operations.
Increasing your realtor business profitability hinges on targeting eligible clients for the Florida Hometown Heroes Program.
By focusing on qualified individuals that meet the criteria, you can streamline your processes and help your clients secure their dream home while growing your own business.
Targeting First-Time Homebuyers
First-time homebuyers are ideal clients for the Florida Hometown Heroes Program due to their eligibility and potential need for financial assistance.
Attracting these clients can be effectively achieved through targeted marketing and education about the benefits of the program.
Highlight the down payment assistance feature of the program.

Emphasize that they are the primary target of this program due to being first-time buyers.

Showcase successful transactions involving first-time buyers.

Leverage digital platforms for targeted advertisements.

Organize seminars or webinars to educate them about home buying process and the assistance provided by the Florida Hometown heroes program.
Marketing to Veterans
Marketing to veterans can be an effective way to increase your profit as a realtor utilizing the Florida Hometown Heroes Program.
Recognizing that veterans are an exception to the 'first-time homebuyer' rule presents an opportunity to aid more people in their pursuit of homeownership.
Highlight the benefits of the Hometown Heroes Program, emphasizing that veterans are exempt from the first-time homebuyer requirement.

Collaborate with local veteran organizations to reach a larger audience.

Stay aware of any changes to the program that directly affect veterans.

Develop tailored promotional materials focusing on veterans.
Explaining Program Benefits to Clients
By articulating the benefits of Florida's Hometown Heroes Program, like significant down payment assistance, you can pique clients' interest and boost your realtor business.
Effective communication of program benefits includes clear, concise language; consider highlighting key factors like the increased funding and comfortable mortgage options.
Highlighting Down Payment Assistance
The Florida Hometown Heroes Program's down payment assistance can significantly influence your client's decision-making. A lighter financial burden can solidify their plan to purchase, turning prospects into satisfied homeowners.
Highlighting the advantages of the down payment assistance not only helps your clients but also fuels your realtor business. Maximized homeowner prospects result in increased deals, leaving you with a thriving enterprise.
Discussing Mortgage Options
Understanding clients' unique financing needs aids in selecting the best mortgage option. The right choice can significantly lessen the burden of homeownership, increasing client satisfaction and improving your reputation as a seasoned realtor.
As realtors, you can guide your clients through the diverse mortgage options available through the Hometown Heroes Program. This includes explaining the program's terms, variable rates, and how individual circumstances can impact the choice of option.
Remember that assisting clients in making an informed mortgage choice isn't merely a good service. It's a step toward forging lasting client relationships and establishing yourself as a trusted authority in the real estate world.
Navigating Mortgage Options
Realtors can enhance their business by understanding the various mortgage options available under the Florida Hometown Heroes Program. It allows you to guide clients effectively through complex financial decisions.
Having a deep understanding of mortgage options is not only valuable, but crucial for long-term success. As a realtor, this will enable you to assist first-time homebuyers and veterans in their journey to homeownership with confidence.
Building familiarity with different mortgage options enhances your expertise as a realtor. This knowledge can provide necessary assistance to clients who could potentially benefit from the Hometown Heroes Program.
Mastering mortgage options provides tangible value to your realtor business. You'll be equipped to offer detailed guidance, helping your clients find the most suitable choice for their individual needs.
Explaining Various Mortgage Options
Understanding various mortgage options provided by the Florida Hometown Heroes Program can empower you as a realtor, giving you the upper hand in guiding your clients towards the most suitable home financing path.
Explore conventional mortgages with lower interest rates.

Discuss government-backed mortgages like FHA, VA, and USDA loans.

Review adjustable vs. fixed-rate mortgages based on client's financial stability.

Consider interest-only mortgages for clients with variable incomes.
Partnering with Mortgage Specialists
As a Realtor, partnering with mortgage specialists familiar with the Florida Hometown Heroes program can advance your business.
Such specialists can provide insights into the program's mortgage options, guiding your clients to the most advantageous choice.
Insight into varied mortgage options in the program.

Assistance in guiding clients to the best mortgage option.

Added credibility to your business with their expertise.

Potential for more referrals and expanding your client pool.
Leveraging Local Knowledge
Understanding the local market's dynamics is an essential tool for realtors. Detailed knowledge about the neighborhood and economic factors can help guide eligible clients to locate a suitable home within their budget, maximizing potential earnings.
A Realtor with in-depth local knowledge can offer valuable advice to potential clients. By leveraging this knowledge, realtors can better match clients with homes in areas participating in the Florida Hometown Heroes Program, leading to faster sales and larger profits.
Understanding the Local Market
Understanding your local market is essential in real estate. Trends, neighborhood desirability, and pricing fluctuations impact housing decisions. Restrictions and incentives, like the Florida Hometown Heroes program, also play a crucial role.
Boosting your business with local insights starts with understanding the specific needs of eligible clients, such as first-time homeowners and veterans. Your knowledge of the existing state programs can increase opportunities to assist these clients.
The Florida Hometown Heroes Program, due to its income and location based requirements, further emphasizes the need for a nuanced understanding of your local area. This enables you to match your clients' needs with properties that take advantage of the program's benefits.
Sharing Success Stories
Success stories have a profound impact by demonstrating the practical benefits of the Hometown Heroes Program.
These narratives can inspire potential homebuyers, instilling confidence in both the program and the guidance you provide as a realtor.
Highlight a first-time homebuyer who was initially skeptical but benefited immensely from the program.

Share a story featuring a veteran who could purchase a home thanks to the program's recent changes.

Tell how a local worker, constrained by a low credit score, maintained steady employment and secured a home.

Relate a feel-good story of a community member who finally achieved their dream of owning a home.
Enhancing Marketing Strategies
Adopting innovative marketing strategies, such as social media campaigns and targeted advertising, can effectively spread awareness of the Florida Hometown Heroes Program. By utilizing these methods, realtors can reach potential homebuyers who fit the program's eligibility criteria.
The Hometown Heroes Program can significantly lift your realtor business. Tailoring your strategy to emphasize the program's benefits, such as down payment assistance and unique mortgages, can persuade more first-time homebuyers and veterans to trust your services.
Creative Marketing Approaches
Creatively promoting the Florida Hometown Heroes program as a Realtor can set you apart in a competitive market. Think outside the box - utilize engaging visual content, customer testimonials, and partner with local heroes for increased visibility.
Don't just rely on traditional marketing channels. Consider hosting a local community event or creating a social media campaign to amplify the program's benefits and reach a broader audience.
Demonstrating your commitment to the community will not only promote the program but could captivate potential clients.
Hosting Informational Seminars or Webinars
Leverage the digital space by hosting webinars and seminars about the Florida Hometown Heroes Program. This approach helps educate potential clients about the program, spurring interest, and increasing realtor visibility.
As a realtor, your webinars should break down the program's benefits and eligibility criteria, making the information easy to understand. It's a way to showcase your expertise while helping Floridians make informed home purchasing decisions.
Staying Updated and Informed
For a realtor, maintaining an updated knowledge of the Florida Hometown Heroes Program is invaluable. It ensures they can provide timely and accurate advice to eligible homebuyers, thus improving their service.
Staying informed equips realtors with insights necessary for strategic planning and decision-making. It enables a better understanding of changes that can affect their clients, thereby directly contributing to a realtor's success.
Tracking Program Changes
Stay ahead by closely monitoring the Florida Hometown Heroes Program. Frequent updates may reveal advantageous adjustments and aid informed client advising.
Regular insights into program changes grant realtors an edge. Proactive tracking paralleled with swift communication to clients can generate significant gains.
Realtors not only benefit from existing incentives but also from any evolving opportunities. By staying informed, realtors can seize every chance to guide clients through the best routes towards homeownership.
Subscribing to Industry Newsletters
Investing time in relationship-building with industry professionals will yield long-term benefits. Engaging with mortgage specialists, fellow realtors, and even government officials can equip you with a wealth of knowledge about the Hometown Heroes Program, including firsthand experiences and practical advice.
Industry newsletters are an invaluable tool, keeping you informed about any changes to the program and offering insights into new marketing strategies. Subscribing to such newsletters will ensure you are always at the forefront of new developments.
An updated realtor not only secures trust but also exhibits credibility. So, staying informed about the Florida Hometown Heroes Program by subscribing to industry newsletters marks the distinction of a thorough professional. This step paves the way for constant growth and success.
Building Relationships with Industry Professionals
For realtors aiming to utilize the Florida Hometown Heroes program, building connections with industry professionals is a pathway to success.
Strategic relationships can open doors to resources and insights that buttress the successful navigation and implementation of the program.
Networking cannot be underemphasized as it amplifies realtor success in leveraging the program. Connecting with mortgage specialists, housing officials, and similar professionals provides a rich sphere of influence that potentially leads to lucrative partnerships and collaborations.
Establish relationships with mortgage specialists familiar with the Florida Hometown Heroes program.

Connect with local housing officials and lenders, like MakeFloridaYourHome.

Attend industry events and seminars for networking opportunities.

Join online forums and groups around the program and real estate industry.

Strategically leverage social media to build professional online presence.
With over 50 years of mortgage industry experience, we are here to help you achieve the American dream of owning a home. We strive to provide the best education before, during, and after you buy a home. Our advice is based on experience with Phil Ganz and Team closing over One billion dollars and helping countless families.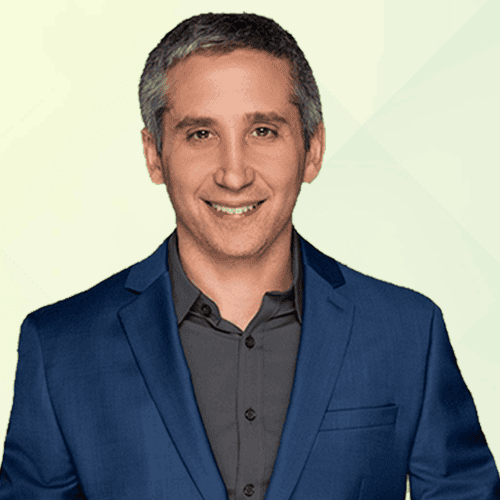 About Author - Phil Ganz
Phil Ganz has over 20+ years of experience in the residential financing space. With over a billion dollars of funded loans, Phil helps homebuyers configure the perfect mortgage plan. Whether it's your first home, a complex multiple-property purchase, or anything in between, Phil has the experience to help you achieve your goals.