What is it like to live in Jacksonville, Florida?
Phil Ganz
/
8 Min Read
/
Mar 24, 2022
So, if you are a first-time visitor or a resident of Florida wishing to relocate to Jacksonville, it pays off to learn about the city before you relocate.
Read on to discover the benefits of living in Jacksonville fl and what to do when you arrive at the suburban city.
Jacksonville, FL: An Overview
The city borders the St. John's River on Florida's North Eastern stretch and is about 300 miles from Miami. Jackson is the largest by size and most populated in Florida, with about 890,000 residents. The city consists of young and older people, although persons under 18 only account for 22% of the city's population.
Top 10 Benefits of Living in Jacksonville, FL
Jacksonville is famous for its hot summer weather, stunning shores, pristine geographical landscape, and cultural diversity. These and many more make the city a perfect spot for vacation or residence.
Below are the top 11 reasons you should consider living in Jacksonville FL.
1. Low Cost of Living
The cost of living in Jacksonville FL is reasonable, with prices of essential commodities like groceries, utilities, and entertainment relatively lower than her neighbors'. Many residents consider transportation the most considerable expense since they use personal cars to move.
According to Living Cost, the average living expense in Jacksonville is about $1709, which, although high, is still cheaper than the national average. Essentially, a month after-tax salary of about $4,368 can sustain your comfortable living in Jacksonville FL for two and a half months.
2. Affordable Real Estate
Jacksonville, FL, has one of the most affordable houses in the US. For instance, according to Living Cost, a single-bedroom property costs as low as $763 in downtown Jacksonville.
As a result of cheap housing, most residents own property. And if you decide to rent, you can still find lovely accommodation.
Whether you wish to stay in a leafy suburb, countryside, or a beach house, you can be sure to get a home within your budget.
3. Thriving Job Market With Many Opportunities
One of the major perks that Jacksonville offers is a vibrant job market. Therefore, if you are on the run for your first or continuing employment, living in Jacksonville FL is worth it. According to the US Bureau of Labor Statistics, Jacksonville's unemployment rate is a dismal 3.2% which is lower than 4.4%, representing the state of Florida.
The high job success rate is due to the presence of multinational corporations, among them Landstar System, Deutsche Bank, JPMorgan Chase, local universities, and the US Naval Air Station. Coupled with a lower cost of living, you can be sure to save some cash from your salary.
4. Unique Cultural Diversity
Jacksonville has a rich cultural heritage due to people from diverse racial origins. The city has a rich history dating back to its discovery in the 1500s. When living in Jacksonville FL from another state or nation, you'll quickly adjust to the new cultural setting.
As you walk in the city, you'll discover museums, cultural festivals, and music shows that define Jacksonville's rich culture.
Major cultural events and historical spots in Jacksonville include:
The Museum of History and Science
Art Walk
Jazz Festival
Riverside Arts Market
Great Atlantic Festival
5. Unique Cuisines
Locals sometimes call Jacksonville America's "dining capital" because of the blossoming restaurants that serve mouthwatering cuisines. So, you'll never feel disappointed when looking for a place to dine in the city. Here, you'll find multi-dollar and budding independent restaurants fighting for space in the culinary market.
For instance, Angie's Subs is Jacksonville's bestseller for tasty Peruvian subs. Similarly, Beach Road Chicken Dinners is famous for fried chicken, while Dreamette has been selling ice creams for 60 years in the market.
With a thriving restaurant sector up to date on modern dishes, you can be sure to get your favorite meal from world-class chefs around the city.
6. Quality Education Facilities
The city is an education hub hosting state-of-the-art learning institutions. In a 2019 ranking by the US News and World Report, five schools from Jacksonville appeared tops in Florida's 100 best public schools. They include Duval, Stanton Preparatory School, Paxon, Darnell Middle High School, and Douglas Arts School.
In addition, Jacksonville boasts of top-rated colleges and universities. If you are interested in higher education, you can find comprehensive courses, including nursing, aviation, education, business, and many more. Some top institutions of higher learning are Jacksonville University, Florida State College, Trinity Baptist College, Chamberlin University College of Nursing, and Edward waters College.
7. Attractive Shoreline Full of Beaches
Of all cities in the US, Jacksonville has the most significant share of the waterfront, with long-stretching gorgeous beaches. Therefore, if you love the thrill of having a cool breeze and a lovely sunset view by the shoreline, Jacksonville will add up to your taste.
Here are some local beaches that dot the city's shoreline:
Jacksonville - Here you can enjoy some adrenalin surfing all day long or walk along the quarter-mile pier. You can also do some beach fishing, play volleyball, or simply wind up with friends and family at the beach.

Atlantic - At the Atlantic, you'll immerse yourself in an array of activities, including sun-basking, surfing, biking, and swimming.

Neptune - Neptune is an excellent spot for a leisurely day or weekend hangout. Here, you can walk along the beachfront, build some sandcastles, or simply grab your favorite novel and wind up in the breeze.

Ponte Vedra - The beach boasts of playing host to Florida's giant dunes, stretching up to 40 feet tall. A visit to Ponte Vedra grants you an opportunity to climb the dunes and build some castles. You can also play golf at the classic golf courses.
8. Enjoyable Warm Weather
Like most parts of Florida, Jacksonville is mostly sunny, with hot summers and warm winters. However, according to Climate Data, living in Jacksonville FL requires you to brace for uneven seasonal distribution. Unlike other parts of the US, the city experiences longer summers, while winter and fall also come much later.
With temperatures as high as 88 degrees Fahrenheit in summer, you'd be better armed with an air conditioner to help in indoor cooling. But for the locals, summer is the best time to swim at the beaches and roll off in the cool breeze.
Similarly, winter in Jacksonville is delightful. With temperatures as high as 60 degrees Fahrenheit, there's no better place to stay in winter. Since temperatures never drop below 40, you'll rarely spot snowy conditions when living in Jacksonville FL during winter.
Are you a first-time homebuyer looking to relocate to Florida? Click here to learn more!
9. Vibrant Banking and Financial Sector
Jacksonville has been one of Florida's significant banking and financial sectors for many years. Active financial institutions offer financial services, including lending, banking, and asset financing.
Insurance firms and financial management corporations also offer daily services across the board. Top financial institutions include US Assure, Black Knight Financials, and Vystar Credit Union.
10. Efficient Transport System
The city has a well-established transport network linking to neighboring towns and states. Thus, movement in and out of the city is never a significant challenge. Because the metropolis area covers a broader span, having a car is necessary when living in Jacksonville fl.
The average time for commuting to the city is roughly 24 minutes, depending on the traffic. The peak season for traffic is around morning and evening, when many people travel between home, school, and work.
If you don't own a car, you don't need to worry either, as there are endless options to commute within the city.
Bus Transit - The transport department has a system of buses that offer transportation along all the major routes. The buses follow a daily schedule, with a lapse of about an hour between every departure. In addition, the department of transport has a robust system of express buses on Beaver and Bay routes, without stopping midway. Although the buses offer cheap transport, they are not ideal if you work late into the night. Most public transit buses do not operate beyond midnight, which calls for other alternatives.

Taxi Ride - Taxis are always available for transport both day and night in Jacksonville. They are the most brilliant options to get back home after watching a late-night movie or working the night shift. However, at peak hours, taxi services can be pretty expensive due to heavy traffic.

Jacksonville Monorail - The train is yet another transport option when living in Jacksonville FL. With two active railways lines and stopovers, you can be sure to reach your destination easily amid road traffic. The best thing about the Jacksonville Monorail is the fantastic view of the downtown and St. John's River it offers travelers on board.

Walking / Biking - Walking is an ideal option if you're traveling short distances for little shopping. Taking a leisure walk or short bike ride to the neighborhood would allow you to get acquainted with the surrounding.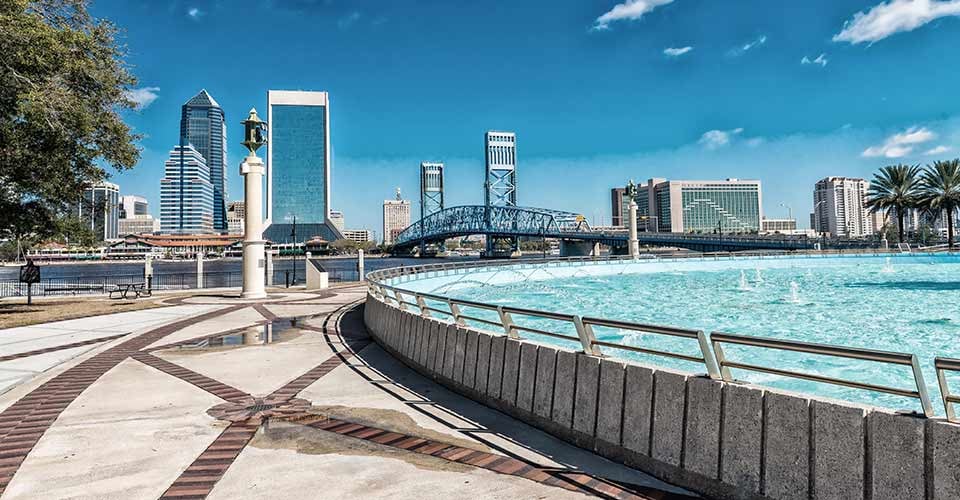 What To Do in Jacksonville, FL
Jacksonville has endless opportunities for recreation and fun-packed activities throughout the year. There are numerous ways to enjoy your free time from the park, visits to live shows, and shopping.
Here are 11 must-do activities and places to explore in Jacksonville:
1. Shopping at Jacksonville
The city's thriving business makes it ideal for retail shoppers worldwide. The town boasts world-class gift shops, retail stores, and fashion joints with adequate stock.
For instance, the St. John's Town Center is a famous shopping mall incorporating big brands in retail shopping. The open-air mall is home to Apple, Mayors Boutiques, Dillard's, and many more.
You can also walk into the nearby Regency Mall for a thrilling indoor shopping experience at outlets like Champs and JCPenney. Alternatively, if you love shopping for furniture, you can visit Avonlea Antiques for home decor, old furniture, and valuable collectibles.
2. Ride-on St. John's River Taxi
Life in Jacksonville is never complete without a water taxi ride on the St. John's River. The water taxis are ultra-modern boats with a capacity of up to 100 passengers.
You can book a memorable trip to the art market or the history museum and back. Moreover, you'll have a stopover at six different spots along the beautiful riverbank. If you wish, you can also book a memorable night cruise and have a spectacular view of Jacksonville city at night.
3. Strolling Along St. John's River
The famous St John's River also offers beautiful walkways along the northern and southern banks. Pedestrians can enjoy a 3-mile walk, with hotels, restaurants, and tourist attractions within reach.
The most beautiful time to walk along the bank is in the evening when the water calms down towards sunset. It's also a good time to jog or ride your bike as you watch the dolphins jumping on the water.
4. Visiting the Jacksonville Zoo
The Jacksonville Zoo is a fantastic place for a family day out and individual tours. Here, you'll watch some vast animal and plant species. The Jacksonville Zoo and Garden feature classic animal stands such as Giraffe Overlook, Land of Tiger, and Great Apes.
Besides animals, the zoo has a place for kids' fun. Your kids can enjoy a splash ground and playing field and engage in fun activities, including petting animals.
5. Learn History at the Kingsley Plantation
On the eastern part lies the Kingsley plantation, a 19th-century historical hub for the slave trade. The garden features the life of the Kingsley, a famously wealthy family that lived before the days of the civil wars.
But the plantation is also famous for slaves exploitation and forced labor during the times of Zephaniah Kingsley. Inside the farm is a mansion built in 1790, a store, kitchen, and slave rooms.
6. Visiting the Cummer Museum of Arts
The Cummer Summer Museum opened doors to the public in 1961. It derives its name from the dream's founder and philanthropist, Ninah Cummer.
Currently, the museum stocks thousands of artwork, with some believed to be as old as 3,000 years. At Cummer museum, you'll find a collection of artwork from famous artists like Thomas Moran.
The museum is also home to ancient, beautiful gardens dating back to 100 years in history. For a memorable experience, consider having a tour guide take you through the gardens and what the museum offers.
7. Watching Wildlife at the Catty Shack Ranch
The Catty Shack Foundation is a non-governmental association aiming to promote the well-being of wild cats. At Catty Shack, you'll see some exotic wild cats, including leopards, tigers, cougars, lions, and tigers. You can opt for a guided tour if you dread the sight of the big cats.
8. Sipping Beer at the Jax Trail
The Jax Ale trail has the best beer for the taste buds of beer lovers. A tour-guided walk into the beer trail lets you sample the city's local brews with a cuisine alongside. As you sample different beers, make sure to get a stamp on your brewery passport from each exhibition stand that you visit. There are gifts at the end, for stamped passports.
9. Discover Nature at the Jacksonville Arboretum
When living in Jacksonville FL, discover nature's best at the arboretum gardens. The park, known as a "hidden jewel" for harboring exotic plant wildlife, opened doors in 2008. It features 13 ecosystems and nature trails on a 120-acre land parcel. Here you'll find exotic forests, towering trees, marshlands, ponds, and brooks.
10. Watching Shows at the Jacksonville Theater
Downtown Jacksonville has a lot to offer, including the famous Jackson Theater. It is a community-based project that also features on the country's historical sites list.
The theater has classic film production, summer camps, and educational publications. The Jacksonville theater also plays a pivotal role in preserving the city's cultural diversity by showing plays from different cultural settings.
If you wish to resonate with the world's best display of culture, a visit to the theater will make the day.
11. Learn Jacksonville's History at the Museum of History and Science
On the South lays the museum, a rich hub for learning the town's history. Since 1941, the museum boasts of having the most visitors in the city. At the museum, you'll learn about the city's development from its earliest inhabitants to what it is today. There are also vital science lessons, including marine life, science, and animal shows.
Interested in learning about becoming a resident in Florida or moving there? Read more.