Naval Air Warfare Center Navy Base - Military BAH
Phil Ganz
/
8 Min Read
/
Dec 02, 2022
The base is one of three major naval air stations that compose what is known as the Fleet Readiness Squadron 20 (FRSEG 20), or FRS-20. FRS-20 consists of NAS Corpus Christi, Texas; NAS Jacksonville, Florida; and NAS Pensacola, Florida.
These bases make up FRSEG 20, which provides intermediate maintenance support for all aircraft in the Navy and Marine Corps inventory and oversees fleet readiness at all three locations.
Brief History
The Naval Air Warfare Center, headquartered at the Orlando Naval Air Station, has a long and distinguished history.
The Navy established the facility in 1941 as Naval Training Center Orlando. The base trained thousands of sailors during World War II. After the war, the Navy converted portions of the base for use as a jet engine test facility. In 1963, the base was renamed Naval Training Center Orlando and later became Naval Training Center Orlando Field Annex (NTCOFA).
In 1971, the Navy renamed NTCOFA Naval Air Warfare Center, an activity of Headquarters U.S. Atlantic Fleet (COMLANTFLT), to better reflect its mission of providing support to fleet operations worldwide.
The former center is now the site of several businesses. The Bucks County morgue crime lab, Warminster Community Park, a housing development, an industrial park, and the IHG hotel "Holiday Inn Express" are all located there. Stormtracker6, the Doppler weather radar for WPVI, is also located on the grounds.
In 1994, Congress designated NAWC an Engineering Research Center as part of a national effort to improve engineering education and research in America's colleges and universities.
In 2005, NAWC became an accredited university research center through its affiliation with the Florida Institute of Technology (FIT).
Fun Facts - There are many attractions near NAWCTD, Orlando, Florida, such as Sea World, Universal Studios, Disney World, Epcot, and other sizable theme parks. Orlando provides a hearty dose of nightlife in addition to top-notch hotels, shopping, dining, and a wide range of family-friendly attractions.
Living off Base and the House-Hunting Process
The first thing you need to do when moving off base is finds a home. This can be daunting, especially for those new to the area. However, there are some things you can do to make it easier on yourself.
First, ensure you know how much money you must spend on housing before starting your search. Once you know this number, it will be easier to set limits regarding what kind of house or apartment you can afford.
Next, research the available neighborhoods in Orlando so you can narrow down which ones might suit your needs best. When looking at different neighborhoods, remember school districts and crime rates to find one that best fits your lifestyle and family needs.
Before choosing where to live, you should consider commute time and proximity to shopping centers or restaurants.
Great Neighborhoods Near Naval Air Warfare Center Navy Base in Orlando
There are several to choose from if you're looking for a great neighborhood near Naval Air Warfare Center Navy Base in Orlando. Here are some of our favorites:
University Estates / Canterbury
This neighborhood has a mix of single-family homes, townhouses, and condos for rent or sale. It's close to the University of Central Florida (UCF) campus and offers easy access to highways like I-4 and Route 435.
The area also has excellent schools, including Canterbury Elementary School, Cady Way Middle School, and Winter Park High School.
Summer Woods
Summer Woods is a neighborhood in Orlando that the Naval Air Warfare Center, Sand Lake Road, and the Central Florida Greenway border. This neighborhood was developed in 1989 and featured several single-family homes with pools and townhomes.
Most homes have three bedrooms, but some have four bedrooms or more. Most homes have two bathrooms and one-car garages. Summer Woods has 11 parks, including a playground, tennis, and basketball courts.
Sherwood Forest
Sherwood Forest is another great neighborhood near Naval Air Warfare Center Navy Base in Orlando. It's located between I-4 and Orange County Line Road on the south side of SR 408 (Semoran Blvd). Sherwood Forest was built in 1959 with primarily single-family homes that range from 500 square feet to 1,400 square feet each.
There are also some duplexes available in this area, as well as townhomes and condos, which are usually larger than their single-family counterparts with more than two bedrooms. Each apartment unit may have up to three bedrooms plus two full baths or two full baths plus one-half bath per unit.
Rouse Run
Rouse Run is a newer development located on the south side of the Naval Air Warfare Center and offers affordable housing options for military families moving into the area.
The homes were built by Lennar Homes, which specializes in building affordable houses for first-time homebuyers or those looking to downsize from their current homes.
Benefits of Living off Base
The benefits of living off base go beyond the financial. You also get to experience a different type of lifestyle and culture. Here are some of the many benefits of living off base:
More Privacy
When you live on base, your neighbors can be right next door or above you. If you're uncomfortable with that much closeness, living off-base can help provide some privacy and quiet.
Better Access to Restaurants
If you want to eat at restaurants other than those available on post, there's more variety available when you live off base. Plus, there are often better deals on food if you go out instead of eating in dining facilities on post.
More Options for Entertainment
The number of things to do outside work hours is much more remarkable when you live off base than when you live on post — especially if your service prohibits most activities, like drinking alcohol or going out dancing late at night.
Lower Cost
The rent for an apartment is usually much less than that of a house or townhome. An apartment also has fewer costs, such as utilities and lawn care.
Less Stress
When you live on base, your housing is part of your job. When you live off base, you can choose where to live. This means you have more control over your living situation and can avoid stressful situations that may arise from living in close quarters with other military members.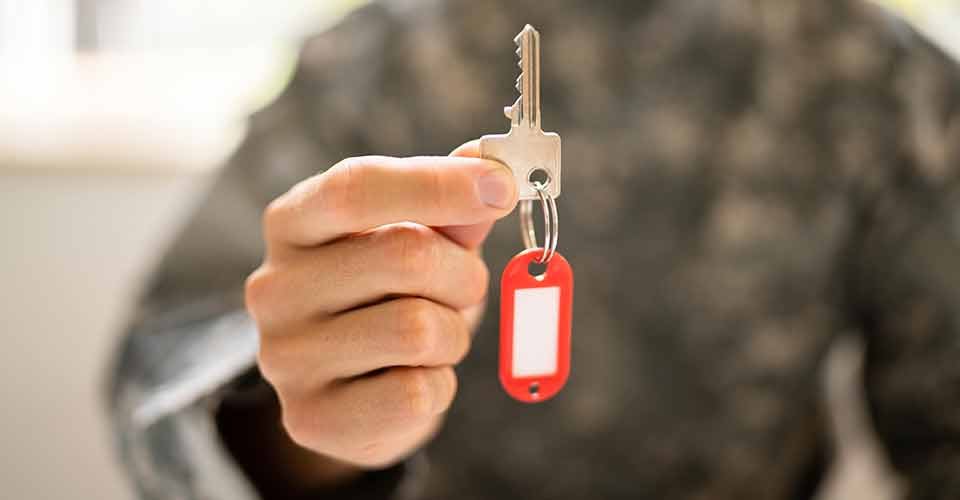 Military Basic Allowance for Housing (BAH)
Military BAH is a tax-free allowance paid to military members stationed for more than thirty days at a permanent duty station. BAH is intended to cover the expense of renting or leasing a home in the private sector.
Monthly BAH rates are determined by adding a member's basic allowance for subsistence (BAS), which varies depending on the service member's pay grade and dependency status, and any additional cost-of-living allowance (COLA).
BAS is paid to all active-duty members regardless of rank or time in service. The amount is intended to offset food, clothing, and housing expenses.
The housing allowance is not automatically granted to members of the military. To receive Naval Air Warfare Center Navy Base - Military BAH, you must apply for it through your personnel office.
BAH Without Dependents
If you don't have any children or other household members dependent on you for support, then you will receive the basic allowance for housing without dependents (BAH W/O DED).
The amount of your BAH W/O DED will be based on your rank and the housing area where you're stationed.
Partial BAH
Suppose your income exceeds the maximum allowable amount for total BAH payments, including any other income such as dependents' salaries or V.A. benefits.
In that case, you may be eligible for partial BAH payments instead. Partial BAH rates vary by rank and location but are typically between 60% and 80% of the total amount paid out to those with full entitlement.
BAH-Diff (BAH Differential)
These rates are for members who live in specific high-cost locations. The BAH-Differential rate is calculated by comparing the average cost of housing in a geographic location to the national average cost of housing.
In addition to receiving the BAH, eligible service members may also receive a Cost-of-Living Allowance (COLA).
BAH RC/T
The BAH Reserve Component/Transit (BAH RC/T) is a type of Basic Allowance for Housing that is available to members of the Reserve Components (R.C.s).
This allowance is paid when you are not stationed at an R.C. installation but traveling between two points on official orders.
Factors that determine how much BAH you will receive
The amount of BAH you can get is determined by several factors, including the location of your duty station and the number of dependents you have.
Dependency Status
Suppose you're married with children and live in a high-cost area like San Diego or Honolulu. In that case, it will be beneficial for both spouses to work while stationed there because they'll likely receive more combined income than just one salary alone would allow them to earn.
If you're single or married without children, you'll receive slightly more money than if you're married with children or have other dependents.
Pay Grade
The first factor that determines how much BAH you will receive is your pay grade. The pay grades range from E-1 through O-10, with E-1 being the lowest pay grade and O-10 being the highest.
Generally speaking, if you're higher on the pay scale than someone else with similar qualifications and time in service, you'll receive more monthly money as part of your basic salary.
Housing Costs in the Local Civilian Housing Market
This is one of the main determinants of the amount of BAH you will receive. The housing market can vary significantly from region to region and even within a single city or town.
The military pays for its members' rent at market rates so they can live off-base as civilians do; however, there are limits on what they can pay based on rank and grade.
For example, if your rent for an apartment is $1,000 per month, but the maximum amount allowed for that rank/grade is $800 per month. You will be responsible for paying an additional $200 out of pocket each month until you find a place that falls within those limitations.
Basic Allowance for Housing and V.A. Loans
A VA loan is a mortgage backed by the U.S. Department of Veterans Affairs (V.A.). V.A. loans are available to eligible military members, their families, and some veterans and surviving spouses.
V.A. loans are popular among military members and veterans because they have no down payment requirement and offer competitive interest rates.
But what if you're on BAH? In this case, it may make sense to use your BAH as income for V.A. loan qualification purposes.
The BAH entitlement can be grossed up to purchase a house. For example, if your monthly entitlements are $2,500, it can be grossed up by 25% resulting in a monthly qualifying income of $3,125.
If you decide to use your BAH as income for V.A. loan qualification purposes, all the following must apply:
You're an active-duty member of the U.S. Armed Forces (including Army National Guard or Air National Guard) or a member of the Ready Reserve or Selected Reserve.

Your salary is stable.

You have six months or more remaining on your current lease or home loan.

Your permanent duty station is located within the continental U.S. or Hawaii.
V.A. Loan Limits and BAH
The VA guarantees loans to veterans who meet its eligibility requirements, including those serving in active-duty status. The VA Home Loan program includes two mortgage loans - the Standard Loan and the Guaranteed Interest Rate (GIR). For both types of loans, there are limits on the maximum amount they can be used to purchase a home.
The maximum loan limit for both V.A. mortgages is $484,350 in most areas outside major cities such as Los Angeles or San Francisco (where higher limits apply).
Steps for Buying a Home with Basic Allowance for Housing
Buying a home with a basic allowance for housing (BAH) is a great way to get into the market quickly and easily.
Here are the steps you need to take to buy a home with BAH:
Step 1 – Submit a V.A. loan pre-approval application
You'll need to tell the lender how much money you want to borrow and how much of your income goes toward your monthly housing expense. The lender will then send you an approval letter with details about how much you qualify for.
Step 2 - Find a Residence
The next step is finding a house that fits your budget and meets your needs. You'll likely need help from friends or family, who can search for houses in different areas based on your criteria, such as location and number of bedrooms/bathrooms.
Once they find one that looks good, they can show it to you or negotiate on your behalf if they're comfortable doing so.
Once you have found a house and the seller has accepted your offer, it is time to finalize the purchase. This involves obtaining a mortgage on top of your Basic Allowance for Housing and ensuring that all documents are in order.
Step 4 - Use Your BAH to Pay Your Monthly Mortgage Payments
After closing on your home, you'll receive an initial payment for your BAH directly from the V.A. You can use this money to pay off your mortgage — but only if it's not more than 30 days after closing.
If it is more than 30 days after closing, wait until you receive your first regular BAH payment before using that money to pay off your home loan.
Conclusion
The Naval Air Warfare Center Navy Base - Military BAH provided to enlisted members and their families by the Naval Air Warfare Center (NAWC) is a great way to get into a home or condo.
The low rate is below the standard home loan offered in many banks, making it an affordable option for those with V.A. home loans.
If you're considering a V.A. loan for yourself or a loved one or want to make sure your loan is VA-approved, speak with an expert today.