A Simple Guide for Realtors - Assisting Clients with Florida's Hometown Heroes Program

By Phil Ganz

Edited by Ryan Skerritt
7 Min Read
Nov 02, 2023
Understanding the Hometown Heroes Program
Florida's Hometown Heroes Program provides benefits such as financial assistance in the form of a second mortgage, which acts as down payment assistance. This assistance, however, is not included in the financing terms and is instead a gift to the homebuyer.
Understanding the financial implications of this program is crucial. It operates as a combination of the program's down payment assistance and a primary loan, which can be FHA, VA, or conventional.
Your lender is key here; they must participate in the Hometown Heroes Program so your client can access these benefits.
Explanation of the Program's Financial Assistance
The Hometown Heroes Program operates differently from ordinary home loan programs. Its financial aid presents as a 'second mortgage', but it's a gift to qualified homebuyers that helps with down payments.
The 'second mortgage' isn't calculated in the financing terms during the offer-making process.

The Down Payment Assistance (DPA) is essentially a 'gift' to the homebuyer and doesn't need to be repaid.

Despite being referred to as a 'second mortgage,' this assistance is not a loan in the usual sense.
The Homebuyer's Primary Loan Options
The Hometown Heroes Program can be readily combined with an FHA, VA, or conventional loan, providing versatile options suiting varied financial situations of homebuyers.
It's important for realtors to understand each of these loan options and how they sync with the program.
An FHA loan typically targets first-time homebuyers, offering low down payments and lenient credit requirements.

The VA loan, specified for veterans, provides zero down payment and does not require mortgage insurance.

A conventional loan can be ideal for those with a steady income and good credit, offering potential benefits like diverse term lengths and rate types.
To incorporate Hometown Heroes, the homebuyer's primary loan remains their FHA, VA, or conventional loan, and the program steps in as a second mortgage serving as down payment assistance.
Realtor's Role in the Hometown Heroes Program
As a realtor, facilitating the Hometown Heroes Program for your clients is pivotal. Ensure their eligibility, guide them in income documentation, and collaborate with participating lenders to secure the program benefits.
Realtors enabling the Hometown Heroes Program essentially smooth the way for eligible clients to secure homeownership, illuminating the complex process of income documentation and loan selection.
Great relationships with clients are built when realtors use their expertise to navigate the Hometown Heroes Program effectively. This involves guiding clients through the loan selection process and keeping up-to-date with the program's updates and changes.
Checklist for Lender Participation
Understanding whether your lender is part of the Hometown Heroes Program is vital. Here's a guide for realtors on what to look for to confirm lender participation and why this step is crucial.
Contact your lender directly and ask if they participate in the Hometown Heroes Program.

Contact MakeFloridaYourHome or check the Hometown Heroes Program's official website for participating lenders.

Confirm that the lender has adequate knowledge of the program's requirements and processes.

Ensure that the lender is prepared to cooperate in providing all necessary documentation.

Remember, a participating lender can make the process smoother for your client, helping secure increased benefits.
Guidelines on Borrower Cash Back
The Hometown Heroes Program strictly prohibits borrowers from receiving cash back except for additional funds gifted by family members - a detail local realtors must be acutely aware of.
Realtors assisting clients in navigating the Hometown Heroes Program should manage expectations by clearly discussing its cash-back policies mitigating potential misunderstandings or disappointments.
Restrictions on Cash Back
Decoding the cash-back restrictions in the Florida Hometown Heroes Program can be a bit complicated for homebuyers. As a realtor, understanding these restrictions is crucial to guide your clients accurately.
Cash back from the Hometown Heroes Program is not permitted to borrowers.

The only exception to receiving additional funds is if they are gifted from a family member.

Appropriate guidance from realtors can achieve greater compliance with these rules.
Conditions for Additional Funds
In the Hometown Heroes Program, only additional funds from a family member's generous gift are eligible for consideration as cash back.
The homebuyer must be able to document the source of the gift funds adequately.

Gift funds must not result in any repayment for the family member.
Ensuring Lender Compliance
Lenders' cooperation is vital to a smooth application process for the Hometown Heroes Program. Realtors should ensure they work with participating lenders to facilitate their clients' benefits.
In steering the homebuyers' journey, realtors play a key role in ensuring lender compliance. When the lender is not participating, they must guide their clients to those who do, ensuring successful access to the Hometown Heroes Program.
Steps for Confirming Lender Participation
Ensuring the participation of your lender in the Hometown Heroes program significantly contributes to a smooth homebuying process.
Following a well-defined step-by-step guide to verify your lender's involvement can help make this task as straightforward as possible.
Check the lender's website for any mention of the Hometown Heroes program.

Enquire directly through a phone call or email to verify your lender's partnership with the program.

Refer to official Hometown Heroes Program resources for a list of participating lenders.
What to Do if Lender is Not Participating
When dealing with lenders not part of the Hometown Heroes program, it presents a roadblock for your clients. It's necessary to guide them in finding a participating lender to take advantage of the program's benefits.
If you encounter non-compliance, it's best to have a list of participating lenders at your disposal. Redirect your clients to these lenders to ensure the clients get adequate financial assistance from the program.
Documenting Variable Income
To ensure eligibility under the Hometown Heroes Program for clients with variable incomes, realtors need to guide these clients in providing a thorough two-year income history.
Handling variable income clients necessitates a meticulous approach, as realtors have to aid in gathering essential documents, which includes federal tax returns and pay stubs from the last two years.
Requirements for Clients with Variable Incomes
To assist clients with variable incomes applying for the Hometown Heroes Program, it's essential to know the program's guidelines. For clients with fluctuating incomes, a two-year documented income history is a necessity.
Documenting variable income involves showcasing federal tax returns and W-2 forms from the last two years. Don't forget to include the most recent two pay stubs and the final ones from the years ending in 2022 and 2021.
The 'Good in, Good out' principle underlines the importance of quality documentation. Accurate and thorough paperwork often results in successfully using the program benefits.
Supporting clients with varied incomes involves more than just filling in forms. It requires understanding the nuances of the Hometown Heroes Program, helping them navigate through it, and ensuring their documentation portrays an accurate economic portrait.
The Two-Year History Rule
When guiding clients through the Florida Hometown Heroes Program, pay close attention to the two-year history rule. This rule mandates that applicants with variable incomes provide detailed financial records spanning the previous two years.
The two-year history rule can seem daunting, but it's an essential program element to ensure financial stability. Demonstrating consistent income over an extended period increases the chances of program acceptance.
Fail-proof tip for realtors - Prepare clients for the two-year history rule. Collect tax returns and pay stubs from the past two years to ensure a smooth application process for the Hometown Heroes Program.
Income Verification Documents
Missteps in document submission can impair your client's application to Florida's Hometown Heroes Program. Hence, ensuring the supply of their Federal tax returns and W-2s for the prior two years, recent pay stubs, and final stubs from the last two years is crucial.
Checking off required financial documentation is crucial in the role of a real estate agent. This checklist should include the clients' federal tax returns, W-2 forms, and pay stubs for the previous two years, supporting a hassle-free application to the Hometown Heroes Program.
Checklist of Required Financial Documentation
The Hometown Heroes Program mandates thorough financial documentation. Realtors should emphasize the necessity for federal tax returns from 2022 and 2021, along with W-2 forms from the same years.
Latest two pay stubs are required, in addition to final stubs from the years ending in 2022 and 2021. Timely production of these documents can expedite program processing.
Quality paperwork can be a daunting task for clients, especially those with fluctuating incomes. Realtors should adeptly guide clients to understand the significance of a two-year income history.
Learning to navigate the intricacies of required financial documentation is invaluable to realtors. Mastery will streamline client assistance and amplify their potential to capitalize on the Hometown Heroes Program.
Principle of 'Good in, Good out'
The 'Good in, Good out' principle in the Hometown Heroes Program spells out the crucial role of a diligent application process.
Attentive, comprehensive document submission invariably results in successful benefits processing.
Make sure you submit complete and correct paperwork.

Ensure all necessary forms are correctly filled out.

Double-check all draft documents before submitting.

Swiftly address any queries from program administrators about your client's application.
Becoming a Hometown Heroes Expert Realtor
Elevating your service to clients will dramatically increase your success rate.
Becoming a Certified Hometown Heroes Expert Realtor with MakeFloridaYourHome not only augments your knowledge of the program but also enhances your proficiency in assisting eligible homebuyers in maximizing these benefits.
It sets you apart and demonstrates your high level of commitment.
Taking that extra step to become a Hometown Heroes Expert Realtor reaps significant rewards. You're armed with the latest updates and changes in the program, ensuring your clients benefit from every available opportunity.
Moreover, networking with other realtors and lenders experienced with the program expands your reach and influence in the industry.
Additional Tips for Realtors
A thorough understanding of Florida's Hometown Heroes Program will position you as an expert and asset to your clients.
Aim to market the program efficiently, guide clients through the application process seamlessly, and stay updated on program changes.
Networking with other realtors and lenders experienced with the program can provide invaluable insights. Remember, collaboration fosters success; sharing experiences and strategies can lead to substantial benefits for your clients.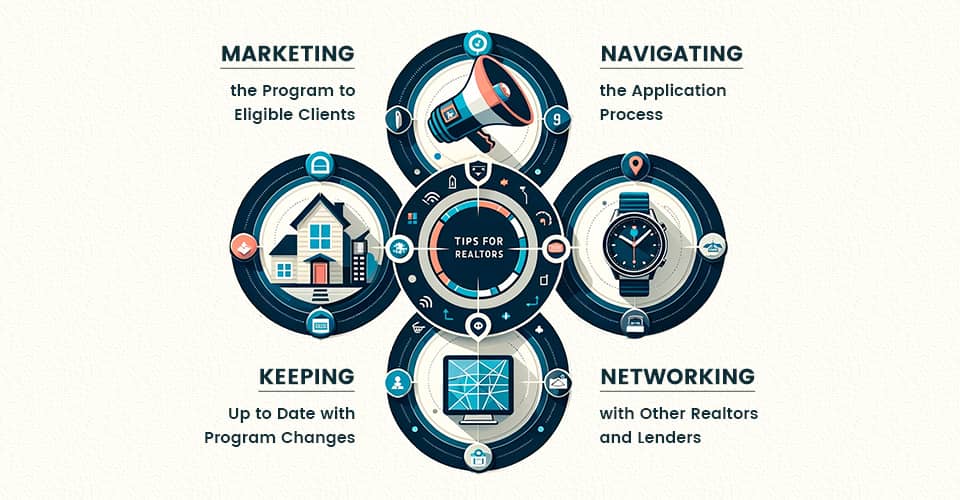 Marketing the Program to Eligible Clients
Forge fruitful relationships with your clients by educating them about the specific benefits of the Hometown Heroes Program. Transparency engenders trust and, in turn, a successful realtor-client relationship.
Highlight the financial assistance that the program offers. Explain that it appears as a second mortgage but operates as a 'gift', lightening their financial burden.
Emphasize the program's inclusivity, discussing options for FHA, VA, and conventional loan receivers. Your clients need to understand this flexibility.
Using real-life success stories of past clients can be an impactful way to market the program. Personalized tales of impact resonate strongly, bringing the benefits closer to home.
Leverage your expertise as a certified Hometown Heroes Realtor to assure potential clients. Positioning yourself as an expert builds credibility and encourages clients to trust the program's benefits.
Navigating the Application Process
Realtors are pivotal in guiding clients through the Hometown Heroes Program's application process. Offering in-depth explanations, helping gather required documents, and navigating queries ensures a seamless experience for eligible homebuyers.
Establishing a structured roadmap for the application process greatly simplifies the homebuyer's journey. As a realtor, breaking down stages, setting reminders for key dates, and providing timely updates can help streamline the progression and keep your client informed and prepared.
Keeping Up to Date with Program Changes
Stay informed about recent updates in the Hometown Heroes Program to ensure your client receives optimal benefits. Regularly check the official website and subscribe to newsletters from the program administrators.
Recognize that changes in the program may entail nuances in loan options, financial assistance terms, or eligibility criteria. Ensure your understanding of updates aligns with revisions in documentation requirements.
Adaptability is key when there are alterations in the Program. Quick adjustment to new conditions guarantees your client a smooth application process, retaining their trust and future collaboration.
Conduct networking sessions with other Realtors and lenders versed in the program. Exchanging insights, experiences, and challenges can boost understanding of ambiguous updates.
Networking with Other Realtors and Lenders
Networking allows Realtors to share experiences and best practices when working with the Hometown Heroes Program. This can strengthen your client service and enhance successful program applications.
Expanding your network helps you navigate changes in the program swiftly. Regularly connecting with those using the program enables Realtors to stay ahead of trends, critical updates, and strategies for better client service.
With over 50 years of mortgage industry experience, we are here to help you achieve the American dream of owning a home. We strive to provide the best education before, during, and after you buy a home. Our advice is based on experience with Phil Ganz and Team closing over One billion dollars and helping countless families.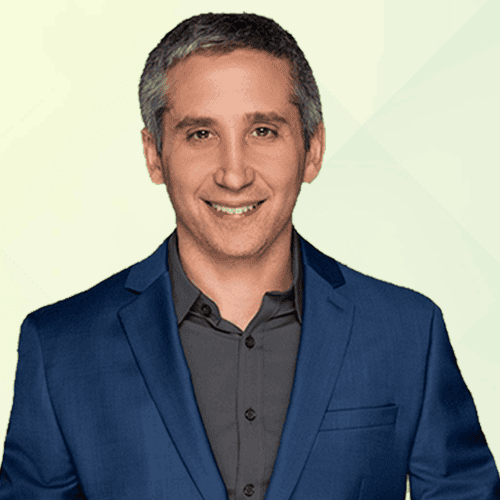 About Author - Phil Ganz
Phil Ganz has over 20+ years of experience in the residential financing space. With over a billion dollars of funded loans, Phil helps homebuyers configure the perfect mortgage plan. Whether it's your first home, a complex multiple-property purchase, or anything in between, Phil has the experience to help you achieve your goals.