Shipwreck Island Waterpark: Panama City's Premier Attraction
Phil Ganz
/
4 Min Read
/
Apr 12, 2022
Ranked among the top things to do in Panama, Shipwreck Island is an expansive five-acre park and boasts luxurious design professional aquatic staff; and is among the friendliest attractions in Panama and North Florida.
Visitors can enjoy multiple fun activities, including meandering, splashing, zooming, water tipping, and so much more. There are plenty of slides designed to accommodate adults and kids alike! And this is not to mention the food and drinks quality, and selection that are just so good that numerous season passers from across the state make a stop for lunch, even when they aren't necessarily coming to have fun in the park!
To give you a glimpse of what to expect, we have compiled this simple yet detailed guide to make your experience more accessible, with a few top picks for activities and things to do in and around the park and Panama City Beach as a whole. Here is everything you should know about Shipwreck Park for a pleasant outdoor experience while you experience the cool breeze from the Mexican Gulf winds.
About Shipwreck Park
Shipwreck Island Waterpark, a top-rated Panama allure, is the ultimate family fun day attraction on Panama City Beach, Fl. In fact, Shipwreck has continually ranked in the top ten America waterparks in multiple top Awards by best of the best awards, Traveler's Choice, and Trip Advisor. Both loyal visitors and locals will attest that this stunning island is a 'must-travel' attraction for anyone visiting Panama City Beach.
Initially established as the Zoom Flume in 1976, the Shipwreck Island came about after merging the Rapids and Zoom Flume, creating a gorgeous tropical-themed waterpark stacked with a diverse array of allures to suit all family members, notwithstanding their age groups.
What are the Main Attractions at Shipwreck Island, Panama Beach?
As you already know by now, Shipwreck is a jewel in the Panama City Beach and Florida area; and on your next visit, here is a list of attractions you can enjoy on the site:
The Great Shipwreck - The 'Zip from the Ship' is a fantastic attraction and a favorite of big Scallywags and little Pirates. It is Shipwreck's main signature attraction and worth every effort.

White Knuckle River - Do you want to twist and turn while you breeze your way down a 660-ft long waterway thrilling experience? The White Knuckle River is your best bet. It is an extensive inner tube massive enough to accommodate your whole family.

Tree Top Drop - This is an exclusive fascination defined by two slides coming off a 65-foot platform. The first is a reasonably dark tube that drops you down a free-fall slide into a rapid drop, and the other slide is an enclosed twisting slide.

Zoom Flume - As earlier mentioned, this was the first attraction in this waterpark. Ideally, a rider cruises down three flumes that twirl in and out and around a massive hill and heads down to an enormous splash pool.

Ocean Motion Wave Pool - You can also delight in this stunning 500,000 gallon pool that creates 3-foot waves every ten minutes. Ideally, these waves comprise cool and clear water with no creatures present that may otherwise lurk in the ocean waters.

The Pirate's Plunge Racing Slide - This is a fantastic slide that duels water slides side by side from an extensive 60-foot tall tower. Here, riders enjoy some thrilling challenges amongst each other for a fun water activity expedition.

The Raging Rapids - This allure is more than 300ft of inner white water tube rafting experience. Popularly known as the 'Rapids,' this provision offers visitors an unmatched white water tubing experience like no other, especially considering the 50-foot splashdown for the finale!

The Lazy River - Another attraction worth checking out is the Lazy River featuring more than 200 ft. of a leisurely meandering river that offers the most relaxing aquatic experience in the park.

Skull Island - Enjoy a fun-filled activity pool that features the famous Lickity Split, a kiddy slide in addition to a family racing slide known as the Pirate's Race. Here, you will also find a fort characterized by a massive tipping bucket that usually unloads about 700 gallons of water on the awaiting visitors every few minutes.

The Tadpole Hole - Finally, let your kids enjoy a massive kid's activity pool inclusive of a ship slide, frog slide, pelican, and elephant slide, all to their delight!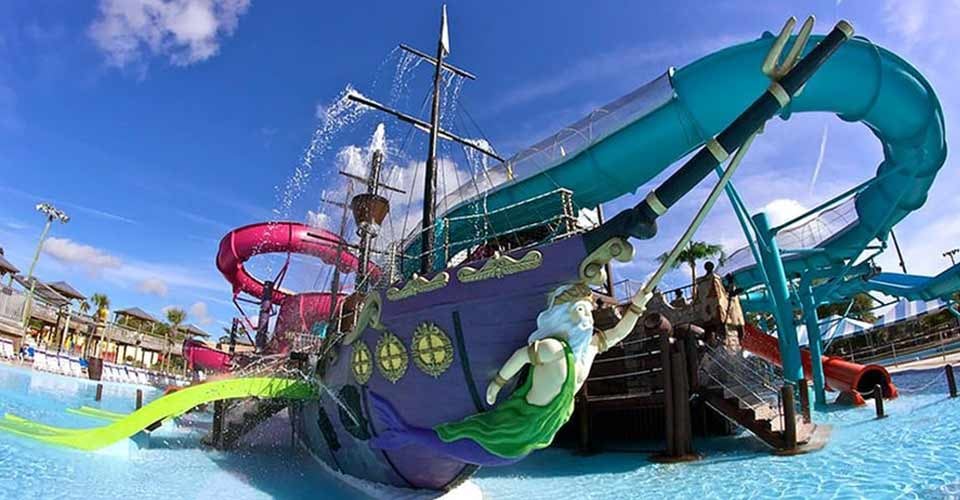 Wine & Dine in style at the Shipwreck Park
The variety of options is mesmerizing when it comes to foods and drinks at the Shipwreck Park. To start, you can enjoy the usual assortment of pizza, burgers, salads, hotdogs, wraps, funnel cakes, frozen drinks, funnel cakes, and of course, barbeque!
Also, you can have a taste of some delicious ice-cream treats and frozen drinks, all available from multiple outlets, including The Galley, Island Ice Cream, the Ship's Grill, Swashbuckler's Beer Shack, and Dippin' Dots, among others.
However, the Main Rule in the park outlines that guests are prohibited from bringing their beverages, food, or coolers in the park. Even so, you can access various rentable lockers in case you need to store some personal items while at the park.
Operating Season and Hours
The Shipwreck Island operates under an exclusive open and closing schedule that is incredibly unique since this spot opens seasonally. Typically, the place usually opens in April, with working days reduced during April and May, with the following opening times are coming in June and July. For August, it can be sporadic, and the final operating times are in the end season around September.
When the park is open, operation hours start from 10:30 a.m. to 5:00 p.m. However, there are several days where it closes at 4:30 p.m.; it is crucial that you check the park's calendar before visiting to ensure they are open and the operation times.
Ticket Prices (and exclusive Season Passes)
Ticket prices at the Shipwreck Park are based on the visitor's height rather than their age. Usually, admissions are around $47.00 for any person above 50 inches in height, and any person below this scale pays $38.00. Kids below 35 inches tall can access the park at no cost!
The admission fees for seniors are usually $35.00, catering for individuals aged 62 years and above (not inclusive of local and state taxes).
You can get the Season passes for $100 in addition to an exclusive second-day discount pass. Usually, you must purchase this pass on your initial visit day, and you can use it with your Photo ID to access the park on a later day during the specified Season.
The Splash Cash Choice
Besides the assortment of allures and water activities, the exclusive Splash Cash Provision is remarkably terrific about this park. Yes, this means that you don't need to walk around carrying money in your pockets to pay for the various amenities offered here. All you need to do is buy 'Splash Cash,' a unique wristband card that allows you to pay for drinks, food, and other associated merchandise.
Note - Any unused credit is usually refunded before you exit the facility.
Final Word
If you are new to Panama City or are a local looking to have an exciting, fun-filled experience, Shipwreck Island is where you should be! Designed in an appealing stature and nestled within lush landscaping, this park is the ideal getaway spot for you, your friends, and your family. With an assortment of allures and fascinations to explore for both kids and adults alike, Shipwreck Island is undeniably Panama's fun in the sun jewel!
Interested in learning about becoming a resident in Florida or moving there? Read more.