Virginia Park, Tampa Florida: The Ultimate Guide
Phil Ganz
/
8 Min Read
/
May 28, 2022
From where to live and how much it costs to the best ways to spend your time once you get there, this comprehensive guide will give you everything you need to know to let your trip or relocation go smoothly from start to finish.
Reasons to Visit or Live in Virginia Park, Florida
Virginia Park, Florida, isn't the first place that comes to mind when you're thinking about places to live in Florida, but you might want to think again. The small town of Virginia Park, Florida, boasts an independent lifestyle and a sense of community that's hard to find in the big city.
From great golfing to shopping, nightlife, and gourmet restaurants, Virginia Park has it all—and here are reasons you should consider visiting or living there.
Great Weather
Virginia Park, Tampa, Florida's weather is ideal for anyone looking for a warmer location. Most of the year is filled with great weather for those who want to spend more time outdoors. The summers are hot but rarely unbearable, and winters are much milder than in other places across America.
The area has an average high temperature of around 90.3 degrees Fahrenheit, comfortable months with average high temperatures ranging between 70 and 80 degrees Fahrenheit, and less than 50.6 inches of rain annually. This means you'll have plenty of time to enjoy relaxing at home or taking advantage of Virginia Park's many events.
Affordable Housing Options
Whether you're new to town or seeking a new place to call home, one of the top reasons to consider moving to Virginia Park, Tampa, is its reasonable housing options. Whether you're buying your first home or renting an apartment with your family, there are plenty of opportunities for comfortable living.
If you're looking for a house or an apartment close to work, several available options are just minutes from where you live and work.
According to Zillow, the typical home price in Virginia Park is $357,294. This is well below the average in major Floridian cities like Miami and Dade City, which stand at $477,471 and $223,200, respectively.
In Virginia Park, Tampa, housing options are plentiful, with various units for rent/lease available at all price points from as low as $900 per month. You can find ideal apartments starting at around $830 to $4099 per month, while larger homes can cost up to several thousand dollars a month.
Affordable Healthcare Services
Whether you're suffering from an injury, chronic pain, or a serious illness that requires regular treatment, you shouldn't have to spend a fortune on your healthcare. Fortunately for Virginians and visitors alike, Virginia Park offers a wide range of affordable health services.
You'll find everything you need here, from general physicians and dentists to chiropractors, vision specialists, and several hospitals. You can even find inexpensive medicine at one of the city's local pharmacies.
With excellent medical centers with state-of-the-art equipment and hundreds of local doctors, you'll never have a problem accessing healthcare services. If you want an alternative to traditional medicine, there are also dozens of holistic healing centers for acupuncture care.
Other facilities also have programs for kids with special needs and rehabilitation for those struggling with substance abuse or mental issues.
Multiple Transportation Options
If you're looking for a location that gives you easy access to multiple transportation options, check out Virginia Park. Whether you prefer public transportation, biking, walking, or driving your car around the city, you can access everything in Virginia Park.
It is home to a network of sidewalks and bike paths to always get where you're going no matter what mode of transportation you choose.
You won't get stuck waiting for a bus with little ones on your hands either; take advantage of the great school bus system. In addition to the great local roads connecting with neighboring cities, the city also has a water taxi service that transports passengers along city waterways.
Affordable Restaurants and Shopping Centers
Virginia Park is home to a diverse selection of shopping centers and restaurants that are great for all types of customers. The neighborhood is filled with great outlets that are reasonably priced. There are several affordable restaurants in Virginia Park, a large mall, and a luxury clothing store perfect for shopping if you want to look good while staying on budget.
You can get any food you're craving, from hamburgers and pizza to sandwiches, steaks, etc., all at affordable prices. The city also has an indoor flea market where you can buy anything you could need while on vacation or when thinking about moving into an apartment in this great city.
Friendly Local Laws
The city of Virginia Park is known for its laid-back attitude and friendly local laws. From being pet-friendliness and having an LGBTQ-friendly environment to minimal government regulation, it's clear that the city welcomes you with open arms. Locals say it's a way for people who love each other—regardless of gender—to feel recognized within their community.
This city has a friendly pet law stating that any properly housed and maintained animal shall not be deemed a public nuisance. This essentially means if you live here with your pet and they are well cared for, you won't have to worry about any code enforcement issues.
In Virginia Park, all drivers and pedestrians need to do their part when it comes to traffic laws. Virginia Park Police officers will be looking for violators. Always wear your seatbelt. Don't drink and drive—it is never worth risking your life or someone else's over a few drinks.
Excellent Taxation Requirements
The taxation requirements for living and working in Virginia Park Tampa are much less stringent than in other cities in the United States. The town takes pride in keeping your taxes low and ensuring you can afford great public services for yourself and your family.
If you're looking for a new place with a lower cost of living, no state income tax, and overall low business and property tax rates, consider moving to one of the city's many beautiful neighborhoods.
Safe Neighborhoods
One of the best things about Virginia Park is that it's safe, and most residents are extremely courteous and friendly. The local law enforcement is cordial and on duty to keep criminals at bay. With police officers on every block and surveillance cameras on every corner, there's no place safer than Virginia Park, Tampa.
While living here, you won't have anything to worry about by letting your children play outside. Child safety and rights are given top priority in the city so that everyone can enjoy their childhood free from crime and worries.
Whether you're going away from home and are concerned about your family's safety or want an un-crowded area to enjoy some space between your neighbors—you'll find it here.
You can get to all your favorite spots without worrying about traffic congestion because the city is sparsely populated. With a total population of only around 7000 people, it's easy to get to know your neighbors and feel comfortable around them.
Great Education System
If you're looking for a place where your children can receive a good education, look no further than Virginia Park's school system. Within minutes from your home, there is an excellent school with small class sizes and one-on-one attention.
The municipality offers a variety of primary and secondary educational facilities. Primary education is provided at Virginia Park elementary schools. Students who wish to continue their high school and college education have several options close to town.
Ample Amount of Job Opportunities
With several major employers nearby and jobs popping up regularly, job seekers will have little trouble landing suitable employment within close proximity. The economy of Virginia Park is strong and continues to grow.
With three shopping centers with retailers including Staples, Walmart, Publix Grocery, and others, residents have a wide selection of job opportunities.
Great Local Events and Festivals
If you want to meet new people and experience some local color, you should visit or relocate to Virginia Park, Tampa. Living here means access to various amazing local events and festivals throughout the year.
Every year, there's a festival or celebration of some kind in Virginia Park. Whether it's a charity event for cancer research, South Florida's dog show, or even just an informal flea market on Sundays, there are always many events happening within the town.
But the unique thing about Virginia Park is its nightlife. The neighborhood hosts weekly block parties that draw huge crowds from all over Tampa Bay. You can find classic rock cover bands, jazz ensembles, and barbershop quartets partying it up outside local pubs and shops on any given week.
Close Proximity to Attractions
With Walt Disney World and Universal Studios just miles away from your doorstep, you'll never have to worry about getting bored on vacation. Whether you want a day of thrills and chills or a relaxing day out at an amusement park with family and friends, you won't be disappointed.
With its central location in Orlando, you can visit both parks without worrying about high gas prices or traffic getting back home after dark.
Easy access to the University of South Florida and the University of Tampa
If you're a student or have one in your family, there are plenty of reasons you should consider living in Virginia Park, Tampa. With bus routes connecting you directly to the University of South Florida and the University of Tampa, you'll be close enough to make it home early but far enough to escape for some peaceful moment to concentrate on your studies.
Being close to these schools makes it easy for parents and their children to spend time together since they have a simple commute. It's also a big plus for students because they don't have to go far if they want dinner with family members on weekends. You can also visit campus without dealing with heavy traffic on busy streets.
City Style
If you're searching for a hip neighborhood with great amenities and culture that's not too far from downtown Denver, your best bet is Virginia Park. Shopping centers and restaurants are all within a 15-minute drive of home.
The neighborhood is well maintained and beautiful. You'll have quick access to various airports and other attractions just minutes away from your door. There's no better place to be for work or pleasure than in Virginia Park.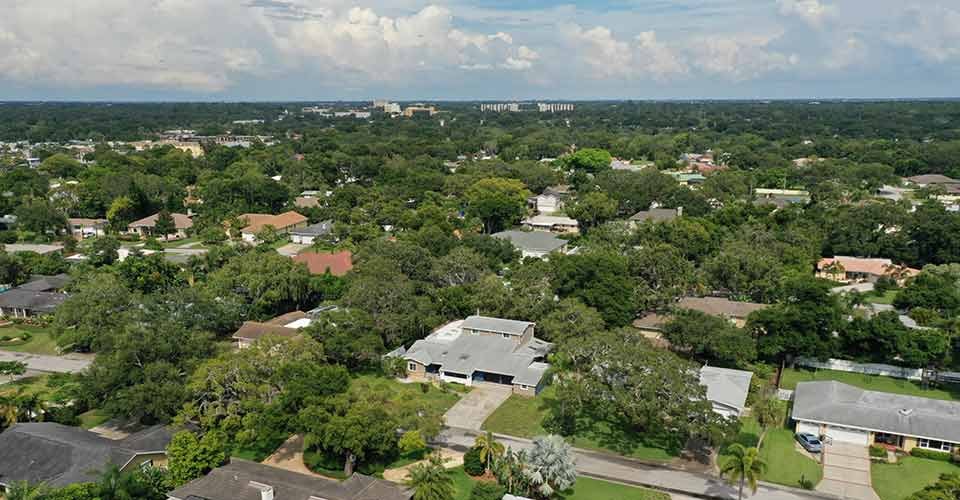 Amazing Things to do in Virginia Park, Tampa
One of the best things about Virginia Park, Tampa, Florida, is that it's close to so many popular neighborhoods and communities in Tampa, allowing you to take full advantage of most of the most famous attractions that Florida has to offer.
Whether it's beautiful beaches, world-class destinations, or great shopping, there's always something fun to do. To help you make the most of your time and money, here are several amazing things to do in Virginia Park.
Visit the Beach
The best part about visiting or living in Virginia Park is the proximity to some of South Florida's most beautiful beaches. The ocean views from here are pretty stellar as well.
So if you love hitting up a secluded beach for your morning jog or going on a sunset cruise with friends, Virginia Park is a great place. Below are the best beaches near Virginia Park, Tampa:
Sand Key Park
Sunset Beach
Ben T. Davis Beach
Madeira Beach
Caladesi State Park
Archibald Beach Park
Indian Rocks
Apollo Beach Nature Preserve
For a different type of family fun, take your crew to Busch Gardens Tampa. Busch Gardens is a 335-acre animal theme park located in Tampa, home to free-roaming Bengal tigers, zebras, and kangaroos. Kids will love feeding giraffes from an observation deck or getting up close with sharks at Shark Encounter.
Adults can sip some beer and wine as they float through Congo River Rapids or relax on a scenic chairlift ride through Jungala. There are also several family-friendly dining options nearby where you can refuel throughout your fun day.
The Tampa Museum of Art is home to over 5,000 pieces from artists from around Florida and worldwide. The museum also hosts several educational events throughout the year and hosts a wide variety of national traveling exhibits.
Whether you're an aspiring artist or a lover of fine artwork, you won't want to miss a visit to this amazing museum. If you're looking for things to do with your kids or a group, several great options are available at an affordable price.
The Tampa Bay History Center is open year-round with exhibits on natural resources and a permanent collection containing more than 2,000 items reflecting hundreds of years of history and culture in Florida. Displays include full-size replica ship models and artifacts from Florida's shipwrecks, Civil War objects, photographs, old-time newspapers, and other exhibits.
A variety of programs are available for groups and individuals interested in learning about local history. History comes alive at related events such as storytelling sessions and demonstrations by costumed interpreters.
Home to the world's most unusual creatures, Lowry Park Zoo is a true wildlife wonderland. If you're looking for a fun day out with your family or friends, you can't go wrong with a trip to Lowry Park Zoo.
You can spend hours exploring indoor and outdoor exhibits filled with a remarkable assortment of mammals (including manatees and gorillas), birds (local and exotic), reptiles (including Burmese pythons), amphibians (including giant cane toads), and insects.
Bottom Line
With multiple parks and recreation areas throughout Florida, it's hard to know where to start deciding which one to visit. Virginia Park, however, can satisfy the needs of most residents and tourists with its large variety of things to do.
Whether you want to spend time outdoors or inside playing games, Virginia Park has something for everyone. There's never a dull moment in this neighborhood with beautiful lakes, museums, beaches, amusement parks, restaurants, and nightlife experiences.