Why Jacksonville is a Great Place to Live for Young Adults
Phil Ganz
/
9 Min Read
/
May 10, 2022
Jacksonville has an appealing combination of low-cost living, strong growth rates, and a variety of outdoor and cultural experiences to enjoy. Straddling the banks of the St. John's River in northeast Florida, Jacksonville, or "Jax," is a great city for young professionals and those seeking a peaceful enclave.
The city has a lower cost of living than the national average and is home to several big companies. It also boasts 850 square miles of stunning beaches, plus many outdoor attractions and a great art scene. The median age here is 35, the youngest in the state.
Whether you're seeking great job prospects, stunning coastal views, or cultural communities, you'll fit right in here. Find out the best Jacksonville neighborhoods to live, the cost of living, jobs in the area, and more below.
In this guide, you will learn everything there is to know about living in Jacksonville. Take a look at what makes the Bold New City of the South great for young adults.
Affordable Cost of Living
Jacksonville ranks 51st in the country's most expensive cities, making it affordable to live here. Jacksonville is about 10% cheaper than the national average when it comes to the cost of living. Living in Jacksonville comfortably requires a salary of $37,880 on average.
Single-family homes here average about $202,000. The combination of lower housing costs and cost of living makes the city far cheaper than cities like Columbus, Ohio, Miami, Atlanta, and Tampa. Plus, it has gorgeous beaches and plenty of outdoor attractions giving you the best value for your money.
There is a home for everyone, whether you are looking for an affordable place in the Jacksonville suburbs or on the beach. Many people in Jacksonville own their own homes because of the low cost of living and the fact that home prices are 17% lower than the national average.
Compared to the state of Florida's $294,900 and the country's $291,700, the median home cost here is $231,800. However, even though the city's average home prices are low, a short supply of homes and a high demand make it a seller's market.
Residents in the area who do not wish to own their own homes often choose to rent instead. Jacksonville is filled with plenty of rental properties, and nearly half of the city's residents live in apartments.
Studio apartments in the city rent for an average of $780, which is about $200 less than the state's average. One-bedroom apartments rent for an average of $938, while the state's average is $1103, and the national average is $1048.
Jacksonville, Florida, Offers A Variety of Jobs
Even though the JAX real estate market favors sellers, there's some encouraging news for young professionals: Jacksonville is among the best places to find a job nationwide. Annual job growth in the city averages 14%.
Consequently, there are many jobs here. While the state's overall jobless rate hovers around 3.5%, Jacksonville has been rated as the state's second-fastest-growing city, behind Orlando in terms of job creation.
Whatever your career path, you'll find a job here. Some of the Fortune 1000 and 500 corporations headquartered here include Winn-Dixie, Web.com, Landstar System, Fidelity National Financial, and Fidelity National Information Services Inc.
The NAS Jacksonville is also nearby, employing over 17,000 active-duty and civilian personnel and the country's third-largest military base.
The average salary in Jacksonville is about $46,000 per year. Although this amount may seem low, the city's low cost of living makes up for it.
An Ideal Location
Jacksonville is Florida's first big city you'll encounter along Interstate 95. It's located in the northeast of the state and has easy access to other major destinations and cities.
In fact, the city is only about two hours away from Orlando and five hours away from Atlanta, Georgia, by car. The cities of Naples, Miami, and Tampa are also nearby.
The advantage here is that weekend getaways are possible and easy to execute. Plan a golf outing to Naples and stay in five-star hotels or drive to Miami for a sun-soaked day weekend at the beach and amazing nightlife.
Huge Cultural Mix
Culture and art thrive in this city because so many people are moving here. It is known for its strong jazz and blues traditions and where the southern rock was born. The city celebrates its culture and heritage through live music, festivals, gatherings, and museums.
The art and history of the city can be found all over the city, including the downtown art district and in historic neighborhoods.
You can choose from a variety of entertainment options, including:
The Jacksonville Jazz Festival
The Jacksonville Jazz Festival is held every Memorial Day weekend and is one of the city's biggest festivals. Live jazz music, delicious food, and a lively atmosphere make up this festival, spread out over 15 blocks downtown and is totally free.
Museum of Science and History, aka MOSH
MOSH showcases local history, hands-on exhibits, as well as the Bryan-Gooding Planetarium, one of the largest planetaria in the world.
There are numerous activities for visitors, including cosmic concerts, private parties, and guided tours along the St. Johns River.
Jacksonville Art Walk
Jacksonville's Art Walk is a must-see for anyone who loves to shop locally. It is held every first Wednesday of the month (except January).
You can explore downtown Jacksonville for free, including pop-up galleries, food trucks, and live music. A visit to the Art Walk is one of the best ways to discover the city's art scene.
The Alhambra Theater and Dining
Jacksonville has thriving theater entertainment too. Catch performances at the Alhambra Theater & Dining, one of the oldest professional dinner theaters in the nation and the only one in the area. Themed, fine dinners accompany each show.
Riverside Arts Market
Jacksonville's art, food scene, and music scene come alive every Saturday between March and November. Enjoy live music as you peruse the artwork from local artists and local cuisine from vendors. Kids, too, can participate in a weekly activity each week!
Top Golf
With over 65,000 sq. ft. of space, with a 165-foot fence surrounding it, Top Golf is an innovative alternative to traditional golf courses.
It boasts arcade games, climate-controlled bays, microchipped balls, and fields with targets. It also has more than 200 HDTVs and a full-service restaurant. The cost of playing here is about $6 per individual.
Autobahn Indoor Speedway
Are you a speed freak? Jacksonville's indoor speedway offers go-karts capable of reaching 50 mph. Summer or rainy days are perfect for the 80,000 square foot indoor, fully conditioned facility. Enjoy a day of karting or ax throwing with the whole family or friends.
St. John's River Taxi
The St. John's River Taxi is the perfect ride to explore the city if you have kids. It costs only $5 ($4 for kids) to cross the St. John's River to the Northbank.
You can descend at Jacksonville Landing and explore the city or ride it all the way to enjoy live music and spectacular sunsets.
Adventure Landing
If you have kids, Adventure Landing is the perfect place to let them loose! Enjoy an arcade game, go-karting, or play mini-golf.
Additionally, Adventure Landing has a water park dubbed Shipwreck Island Water Park, complete with four water slides, rides, and other fun activities for your little ones.
Kingsley Plantation
Within the Timucuan Ecological & Historic Preserve lies Florida's earliest plantation house, the Kingsley Plantation. This is a great place to learn about freedom and slavery. There is no admission charge to Kingsley Plantation.
Jacksonville Zoo and Gardens
Jacksonville Zoo and Gardens, situated at the Trout River's mouth, is consistently rated as one of Florida's top animal attractions. More than 2,000 animals and 1,000 plants live on over 100 acres in the zoo.
It's a great place for you and your young family to feed giraffes, dance with tigers, ride the train, and explore other floras and faunas.
Jax Sports
If you are a sports fanatic, there are tons of home teams to cheer all year round as they battle out for various trophies. Locally, there are eight professional sports teams, four college teams, and countless other events.
You can watch the Jaguars play, play golf on one of the nearby courses, or enjoy water sports in one of the city's waterways.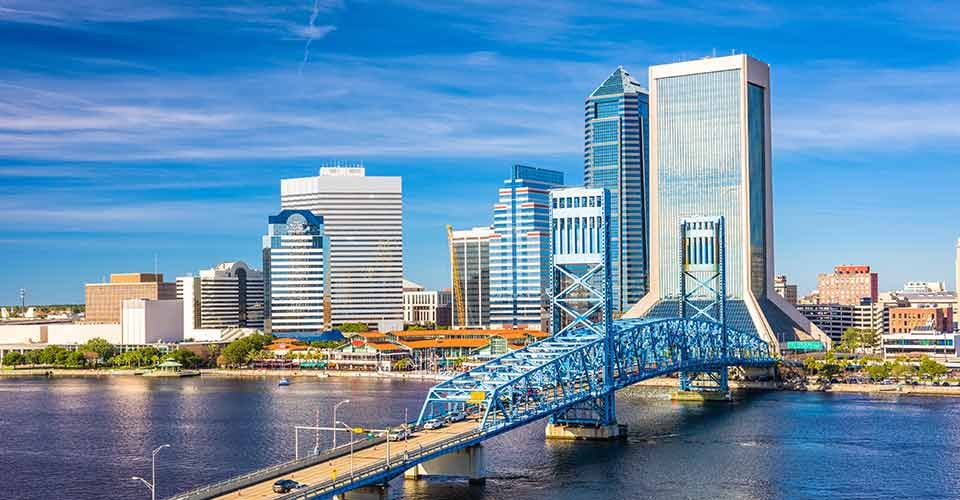 Beaches and Reefs Galore
Jacksonville, Florida's beaches attract a lot of new residents. For sand lovers and individuals who love a cool ocean breeze, the city boasts over 22 miles of coastline.
Whether you are looking for a prime tanning location or surfing, kayaking, boating, or scuba diving spots, you are covered. Living in Jacksonville beach exposes you to a variety of beaches with each having its own distinct character.
Some of the local's favorites include:
Neptune Beach - A great family beach in a suburban area. Play in the sand or bring your favorite beach chair and relax in the breeze with a book or catch some zzz's.

Jacksonville Beach - This beach is a great fishing and surfing spot, so bring your kayak and fishing equipment and see what you can pull out of the water.

Atlantic Beach - This clean beach is located above Neptune Beach and is a great place to relax.

Ponte Vedra Beach - It is known for its luxurious golf courses and dunes that rise 40 feet high.

Amelia Island - An island off the coast of Florida, Amelia has miles of white sand beaches, pristine waters, wildlife, and luxury resorts.

Spike Reef - This local favorite is named after a 76-foot Coast Guard vessel that was submerged to enrich the Reef. With its vertical relief, the Reef creates an ideal habitat for a variety of fish, including the Greater Amberjack.

Blackmar's Reef - The Blackmar Reef features natural reef ledges along with two planes, five wrecks, and abundant marine life.

Coppedge Tug Wreck - This Reef lies in shallow water and is home to various colorful fish.
Amazing Cuisine Culture
You'd be surprised how many coastal delicacies you'll be introduced to once you relocate here. Forbes even listed the area as one of the top five foodie cities to check out, and for a good reason, no other Florida city can compete with Jacksonville for its diverse cuisine, thriving culinary community, and internationally acclaimed chefs.
Living in Jacksonville beach exposes you to a wide range of dining options, upscale bistros, sandwich shops, and kid-friendly eateries.
Here's a breakdown of the city's cuisine scene:
Farm to Table
There are dozens of farm-to-table establishments in Jacksonville for individuals who appreciate local food. Examples of these dining establishments include Restaurant Orsay, Kitchen on San Marco, Black Sheep Restaurant, Moxie Kitchen + Cocktails. Whether you want vegan or gluten-free options, you will find them here.
Ethnic Cuisine
If you're jonesing for something ethnic, check out the Green Earth Bistro specializing in Middle Eastern food and some vegan options, the Nile Ethiopian Restaurant for fine Ethiopian cuisine, and Mandaloun Mediterranean Cuisine for Lebanese cuisine. If you're hungry for craft ramen, stop by Domu Downtown for an Asian fusion menu.
Seafood
For some seafood, check out Clark's Fish Camp in Mandarin, North Beach Fish Camp, Palm Valley Fish Camp, Bistro AIX, or Whitey's Fish Camp.
American Eats
If you are craving sandwiches or burgers, there are plenty of options. Head over to the French Pantry for the freshest bread and Maple Street Biscuit Company for the best chicken biscuits.
You can also visit The Mini Bar if you're in the mood for doughnuts. Be sure to visit Poe's Tavern, Kickbacks, and Goozlepipe & Guttyworks, Jax's top gastropubs!
Food Trucks
No matter your taste, Jax food trucks offer something on the go. Nearly 100 food trucks operate in Jacksonville. Jax's favorite food trucks include Salty Dog, Fusion Food Truck, The Butt Hutt Smokehouse, Mother Truckin' Pizza, and The Happy Grilled Cheese Food Truck.
Best Schooling Options
Approximately 300 schools in Jacksonville, with about 60% of them being public. The city offers a wide range of university options if you wish to continue your training and advance in your career field.
Among them are Jacksonville University, the University of North Florida, Florida Coastal School of Law, and The Art Institute of Jacksonville.
Jacksonville Is One of Florida's Safest Cities
As a highly populated and diverse city, Jacksonville experiences instances of crime. However, there are not as many as those in Tallahassee, Orlando, Miami, or St Petersburg. According to statistics, Jacksonville enjoys a moderate level of safety.
Jacksonville ranked 40th in violent crime with 680.29 per 100,000 residents in 2020, while it ranked 70th in property crime with 2,783.46 per 100,000 residents. That makes it safer than Memphis, Milwaukee, Auckland, Detroit, Cleveland, New Orleans, Springfield, Baltimore, etc.
The city can be broken down into five sections: Northside, Westside, Southside, the beaches, and downtown. West and north side neighborhoods are generally considered to be bad. Here's a look at some of the best neighborhoods to live in the city:
The best neighborhoods to live in Jacksonville, Florida:
San Marco
Designed and built in the 1920s to resemble Italy's Piazza San Marco in Italy, this diverse neighborhood boasts a thriving arts and shopping district with trendy shops and bistros.
It's located north of Mandarin and south of downtown and loved by artists, creatives, and single professionals. A one-bedroom apartment rents for an average of $1,515.
Northside
Even though it is close to downtown Jacksonville, the Northside is relatively tranquil. Twenty minutes northeast of the city is where retirees, families, and first-time homebuyers reside. Several shopping, nature preserves, and state parks can be found here, as well as in proximity to the airport.
The average monthly rent for a 1-bedroom apartment here is $1,300, while the median home price is $320,000.
The Beachfront
The beachfront is full of retirees and families, but young adults looking for a quiet neighborhood will love it here too.
It offers proximity to outdoor and water life. The only caveat is that homes here are pricey. The median home price is $335 000.
Southside
Families with young children and couples love the Southside and Mandarin because of their low crime rate, excellent schools, parks, and the most breathtaking views of the river anywhere in Jacksonville.
These St. John's River neighborhoods found south of San Marco are known as "tropical paradises." above all, housing prices and rent are lower than those in the Northside and the Beachfront. The average rent for a one-bedroom apartment is $1538, while the median home price is $250,000.
Westside
The Westside and Orange Park neighborhoods are popular with navy families, horse enthusiasts, and land seekers. Here you'll find the Naval Air Station, boating facilities, and marinas that offer full services.
This neighborhood offers the most affordable housing in the city, with a $640 average rent for a one-bedroom apartment and a median listing price of $100,000.
Neptune Beach
Jacksonville's Neptune Beach is a beautiful location. That is why living in Jacksonville beach whether you get yourself a modern townhome or a beachfront bungalow, this community is perfect for a beachfront lifestyle.
The unemployment rates here are low too. The average rent for a studio apartment here is $1,200, while for a one-bedroom is $1600. the median home price is $700,000.
Conclusion
The city of Jacksonville has many things to offer, whether you are looking for a career opportunity with great growth potential, a relaxing beach life, a great party scene, or a cultural mix of people and cuisine.
Besides, who says you cannot enjoy them all? Find yourself a good moving company and get yourself a great place in the city.