VA Home Loan Requirements and What to Expect Throughout the Process
Phil Ganz
/
15 Min Read
/
Apr 28, 2022
As a veteran or service member, you may find VA loans appealing for specific reasons. They require zero down payment and don't come with Private Mortgage Insurance (PMI) fees. You can even apply for the home loan multiple times as long as you are eligible.
A VA home loan can be an ideal financing option if you want to refinance or buy a house. You can apply for one from private lenders such as credit unions, mortgage companies, and banks. Though it targets people serving or who served in the armed forces, it isn't offered by the government.
With a lot of misinformation about home loans, particularly VA loans, it can be frustrating to know what to expect from this kind of home financing.
Here's everything you should know about VA home loan requirements and what to expect when getting one:
Understanding VA Loans
The 1994 Servicemen's Readjustment Act, also known as the "G.I. Bill," first instituted VA loans as the benefits to service members were entitled.
Franklin D. Roosevelt, the president at that time, signed the G.I. Bill into law giving veterans a chance to afford homes. Later on, the American Legion advocated for the bill to acknowledge the efforts of wartime veterans.
Today, VA loans are guaranteed by the Department of Veterans Affairs and target veterans with any discharge (except dishonorable).
You could qualify for the loan if you served in the US Army, Navy, Marine Corps, Air Force, Coast Guard, and Space Force. Previous service members in the Army National Guard, Air National Guard, military reserve members, and cadets in the US Military Academies are eligible for the loan.
If you are an active-duty service member, reservist, or national guard member, you must meet certain service minimums. According to the US Department of Veteran Affairs, these time-in-service requirements include:
90 days of wartime.

Continuous active duty service for 24 months.

Completion of a full active duty period.

Completion of a 181-day active duty service before a hardship discharge.

Completion of at least 20 months in a 2-year enlistment before a convenience discharge.
You may qualify for a VA home loan if you are a veteran who was discharged for a pre-existing condition not related to the service.
You can still apply for the loan if the discharge was linked to a service-connected compensable disability and a service-connected disability. Other eligible applicants include spouses of veterans killed in action, provided they are not remarried.
Types of VA Loans
While you may associate a VA loan with a new home purchase, the loan can also help you in several real estate transactions.
In fact, more than 1.2 million VA loans given in the 2020 fiscal year (worth over $363 billion) were primarily used as reverse mortgages and construction loans.
Depending on the real estate transaction you want to partake in, you may apply for VA loans for various reasons.
The home loan can come in the form of a first mortgage or a second mortgage on your primary residence. It may also be offered as a mortgage on a rental/secondary property, refinance, construction loan, or reverse mortgage.
VA home loans that act as a first mortgage offer eligible veterans and service members a reasonable chance at homeownership.
You may take the loan as a second mortgage when faced with unexpected expenses, provided it doesn't exceed the first mortgage amount.
Taking a VA loan as a mortgage on a rental property or second home can be an ideal investment opportunity. You can apply for the loan to refinance a conventional or FHA mortgage or fund a home construction project.
It's also possible to convert your VA loan into a reverse mortgage under an accredited lender's HECM (Home Equity Conversion Mortgage) program.
Why Consider Taking a VA Home Loan?
It's no secret that VA home loans boast loose credit requirements and relatively low-interest rates. You won't have to make any down payment when looking to finance 100 percent of your mortgage.
The home loan has zero limits on first-time buyers and low-interest rates.
Unlike conventional mortgages that require you to buy private mortgage insurance, VA loans don't need any.
Even more, the loan originator will give you the loan after determining that you are a satisfactory credit risk without putting you through a credit score requirement.
VA loans also allow sellers to pay the closing costs and are assumable if you want to transfer the home over.
VA Loan Rates
Since VA home loan rates are government-backed, lenders charge relatively low-interest rates. The US Department of Veteran Affairs doesn't determine these rates. Expect your lender to assess your unique financial situation when determining an appropriate rate for your VA loan.
Day-to-day market conditions affect VA loan rates, like other conventional mortgages. Factors like credit score, loan duration, and loan type also influence these rates.
Due to the risk lenders take when giving you the loan, they expect you to have a good credit score to score a low rate.
You may still qualify for a lower rate if you have a poor credit score under the VA Guaranty. Seeking a credit consulting service may help get pre-approved if credit is a significant worry.
VA Loan Refinancing
Under the VA home loan program, eligible borrowers can lower interest rates and reduce their monthly loan payments. You can also get cashback on the refinance and put the proceeds into other needs. For instance, a VA loan refinance proceeds can help you pay off debt or make home improvements.
The VA Cash-Out Refinance and the Interest Rate Reduction Refinance Loan (IRRRL) is the primary VA loan refinance programs. Here's a breakdown of each program:
Cash-Out Refinance
A Cash-Out refinance is an excellent option if you have a conventional mortgage or VA loan. It may also suit you if you want to leverage your home's equity to get cash for paying off debt, emergencies, home improvements, or other purposes.
With this kind of refinance, you'll replace your old loan with a new one but with a large amount. However, expect to pay a high rate or more cash-out points.
The lender will also consider your credit profile, your home's loan-to-value ratio, and bank standards to set your loan amount.
You qualify for a cash-out refinance if you have an existing VA home loan. Once approved, the lender will send you the difference between your two loans in cash (tax-free).
The VA Streamline (IRRRL) Refinance
The streamline refinance can suit you if you want to save more and access low-interest rates. You may consider this option if you're moving from a loan with a variable rate to one with a fixed rate to stabilize your payments.
Consider the closing costs as you refinance your loan since they may prove expensive in the long run. You should also divide the closing expenses by the amount you expect to save each month.
Get an IRRRL through a credit union, mortgage company, or private bank. Don't fall for offers that guarantee you to skip payments or get meager rates. Either way, the lender will require a Certificate of Eligibility to prove your entitlement.
You may qualify for an IRRRL if you have an existing VA-backed loan and want to use the IRRRL is a refinance. The lender will also require you to prove that you currently inhabit or used to inhabit the property covered by the loan.
What are VA Jumbo Loans?
VA jumbo loans boast significant benefits for eligible service members and veterans. With this type of loan, you'll have more access to residential properties in high-cost metropolitan areas. You still enjoy benefits like zero down payment regardless of the home's asking price.
Your VA loan will qualify as a VA jumbo loan if the borrowed amount is more than the county-specific limit on VA loans. In 2022, most counties have a VA loan limit of $647,200 to an upwards of $970,800 in high-cost metro areas.
Note that VA loan limits have little impact on your home buying power. This is because there's no cap on the maximum VA home loan one can take. However, the limits help determine the `maximum amount of money you can take without a down payment.
Eligibility
Like the typical VA home loans, you need to prove that you are a veteran or an eligible service member when applying for a VA jumbo loan. The income and credit requirements are more strict than the conforming VA home loan. Furthermore, their rates differ slightly with the lender.
Though credit requirements differ with the lender, you need a credit score of at least 620 to get the financing. The lender may also require proof of cash reserves that can help you cover several months' worth of the home loan payments.
Provided you have full VA loan entitlement, you won't need to make any down payment for this loan. The Veteran Affairs will back it if you can fully afford it.
Lenders institute down payments if you have diminished entitlement. They would oblige you to make the payment if you had a previous VA foreclosure or an active VA home loan.
VA Loan Eligibility
You may qualify for a VA home loan depending on your service or active-duty status. The Veteran Affairs is the only accredited organization that can assess your eligibility for a VA-backed or VA direct loan.
This institution bases eligibility requirements on the character of service, duty status, length of service, and length of service commitment.
Lenders' Borrowing Requirements
VA loan lenders require you to meet specific standards of income, credit, and other requirements before approving you for the loan.
Though the Veteran Affairs doesn't have credit score limits for the loan, expect most lenders to use your credit report to set your interest rate.
Since different lenders have different loan processing requirements, shop around for a loan that meets your home buying needs.
Veteran Affairs' Borrowing Requirements
The VA doesn't determine the borrowing limits you qualify for. However, this organization requires you to have adequate income in your account after making mortgage payments and meeting your financial obligations.
They want to know that you can afford the loan to reduce the defaulting risk.
Required Loan Documents
Like conventional mortgages, you have to fill out various forms when applying for a VA home loan. The lender will require you to fill out forms and give copies of your financial documents to choose an appropriate loan size and set terms for you.
Before applying for the loan, include the following documents:
Request for a Certificate of Eligibility (VA Form 26-1880) or Certificate of Eligibility (COE).

Fannie Mae Form 1003 or Freddie Mac Form 65 (Uniform Residential Loan Application).

Proof of income, including pay stubs, bank statements, or income tax returns.

Credit report.

Evidence of outstanding debts (including child support, car loan, student loan, or alimony).

Condominium or Homeowners association forms.
When requesting a Certificate of Eligibility, expect the VA to verify your loan eligibility and your exemptions to paying the VA funding fee (if any).
You can get the Condo form (if the loan is meant for a condominium) or a COE from your lender or download them online. Either way, you have to fill them out and submit them during the loan process.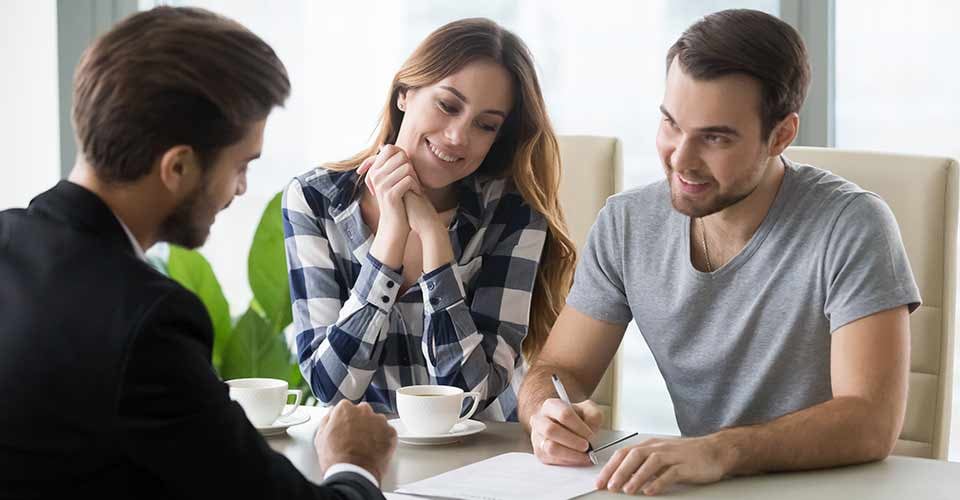 Key Terms in the VA Loan Process to Understand
The outcomes of the homebuying process with a VA loan largely depend on how well you are prepared. It's essential to familiarize yourself with some of the terms used in the process to get the most out of it.
Here's a breakdown of terms like the VA Escape Clause, VA appraisal, home inspection, and closing:
The VA Escape Clause
Once you find a house that fits your needs, your realtor can help you develop an offer, create a sales contract, and negotiate. Your sales contract should have a contingency (known as the escape clause).
A VA escape clause prevents you from incurring any penalty if the contract purchase cost is more than the price value established by the Veteran Affairs.
Ensure that your sales contract has the Escape Clause if you're looking to buy a home with a VA-backed loan. It's your lender's responsibility to ensure that this clause is in the contract before closing the deal. If it's not included, the Veteran Affairs won't guarantee your loan.
Under the VA Escape Clause, you have the option and privilege of sealing the contract without considering the set purchase price set by the VA. The clause also gives you an option to buy a home if its appraisal value is less than the price indicated in the contract price.
If the home doesn't appraise, the clause mandates you to carry cash during the closing to pay the difference between the sales price and the appraised value. Settling the price difference will be ideal if you fail to renegotiate the price with the seller.
VA Appraisal
Your lender will bring in a VA-accredited appraiser to give a value opinion of the home once both parties (you and the seller) sign a valid purchase agreement.
The appraiser will be needed when you take a VA cash-out to refinance or purchase a loan. Unlike a home inspection that looks at the structural state, an appraisal focuses more on value.
An appraisal offers an expert value opinion on a residential property to determine whether it meets VA's property requirements. The process confirms that the home's value is based on market data and facts rather than the seller's opinion.
It gives you peace of mind that the property you want to buy is worth investing in.
You will get a notice of value (NOV) once the process is complete. NOV documents outline the home's estimated value, floor layout, and photographs. They also list comparable properties in the area and items that need repair to meet VA's property requirements.
Your lender will schedule the appraisal in a timely way to prevent potential loan processing delays. The hired appraiser must have at least five years of working experience to value and appraise properties in your area. If they find that the appraised value isn't enough to complete the VA loan, your options include:
Renegotiating the sales price (if the seller is willing to consider a lower sales price).

Requesting a Reconsideration of Value to present facts that the appraiser may have omitted or overlooked in the original appraisal.

Bringing cash at closing to pay the difference in cash.

Using your Escape Clause to get your money back

Requesting a cost-approach appraisal if you are building a house or purchasing in a newly-developed area with no comparable properties.
Home Inspections
Though the US Department of Veteran Affairs doesn't require you to do home inspections, the process may help you in the purchase.
The process can give you an unbiased assessment of the home's current condition. Only consider a state-licensed inspector who doesn't have any conflict of interest in the home sale.
A home inspection helps you determine whether the home you want to buy is a valuable investment based on its structural features.
The inspector will observe and give you a written report of the property's components and systems. They will look at the electrical, plumbing, cooling, and heating systems.
The procedure covers structural components like the home's interior and exterior components. It also looks for defects in the roof masonry structure and foundation.
Hiring a structural engineer for the inspection will be a good idea if you want to buy an older property. Though the work will cost more in upfront fees, the engineer will help you determine if the property requires upgrades or repairs.
Knowing the defects in the property can help you negotiate with the seller for a lower price or agree on making repairs/replacements.
Closing
The closing marks the final step of the sale as you get closer to becoming a homeowner. You have to sign specific paperwork and bring the agreed amount of money during this step. Your lender must also give you a Closing Disclosure prior (three business days) to the closing date.
A closing disclosure is a five-page document giving the final details on your chosen home loan. It highlights your loan terms, closing costs, and projected monthly payments. You have to double-check that all the loan details are accurate on this document before agreeing to close.
Expect your realtor, the closing agent, the seller (or their representative), and an escrow officer to be present during closing. Since it can be a time-consuming process, seek clarification on any issues you may have regarding the sale.
The seller has to pay for closing costs such as the termite report, buyer broker fee, brokerage fee, and commission for realtors.
You have the freedom to negotiate who pays closing costs like the VA funding fee, loan discount points, and loan origination fee.
The recording fee, title insurance, state and local taxes, hazard insurance, and VA appraisal fees are other closing costs you can negotiate.
Steps to a VA Home Loan
VA home loans are a simple yet effective way for veterans and military members to own a home. It's crucial to understand the qualification process, the loan's ins and outs, and closing requirements to avoid unnecessary delays.
Here's a breakdown of the vital steps to getting a VA home loan:
Choose a VA-approved Lender
Only lenders accredited by the US Department of Veterans Affairs can act as VA loan originators. Consider a VA specialty lender with thorough knowledge and experience about the loan.
As you shop for different VA lenders, note that these companies add their own requirements to the foundation of VA loan standards. Their requirements include elements like interest rates, debt-to-income ratios, and minimum credit scores.
Some VA lenders serve borrowers with solid credit, while others work with those with weak credit. Find a lender based on your current financial situation and your willingness to meet their requirements.
Obtain a Valid Certificate of Eligibility
You can obtain a COE from an experienced lender to prove that you meet the VA loan minimum eligibility standards.
The COE can also help the lender understand the amount of entitlement you deserve. This entitlement amount is a sum of what the US Department of Veteran Affairs guarantees on your loan.
As you prepare to start your COE request, put together relevant paperwork. If you are a veteran, avail a copy of your separation or discharge papers.
The lender will need a service statement signed by your personnel officer, adjutant, or commander for an active-duty service member.
The statement should bear your full name, Social Security number, date of birth, and date of enrolment. It should also cover the duration of lost time (if any) and the name of the command giving the information.
Your lender will require some background information regarding your military service if you are an eligible applicant to grant you a COE. You can also download the document online through the eBenefits portal on the Veterans Affairs site or your lenders' portal.
Surviving spouses of service members who can't obtain the form online have to request one via mail. The VA or VA lender can direct you to the right provider for this particular situation.
Pre-Qualify for a Loan Amount
Though pre-qualifying for a VA loan is important, it isn't required by the Veteran Affairs. Completing this step can help you cope with uncertainties later in the loan process.
The VA loan prequalification will help lenders assess your service as well as your credit eligibility. It also allows them to estimate a loan amount for you and gather the paperwork needed to pre-approve you and underwrite your loan.
Speak with your VA loan originator about your credit history, income, marital status, and employment, among other factors in the prequalification.
Since the prequalification process is a non-binding step, you can hold it with several lenders. The process will help you compare terms and rates and reveal areas that need improvement (like debt-to-income ratio and credit).
A prequalification letter will give you a price range benchmark for house hunting. However, it won't guarantee that the lender will approve you for a loan. The lender will only approve you for the loan after receiving and reviewing all your financial and service documents.
Search for a House and Sign the Purchase Agreement
In this step, you can view different types of homes and choose one that appeals to you. You have to work with a realtor knowledgeable about the VA loan process for the house hunting to be productive.
The real estate agent will help you identify properties that meet VA's appraisal standards and negotiate seller-paid fees.
With the VA appraisal, service members and veterans can buy appropriately valued and structurally sound properties.
All homes must meet Minimum Property Requirements, which include:
Safe mechanical systems
Adequate roofing
Adequate heating
Dry basements and crawl spaces
Property free of fungus growth, dry rot, or termites
Remediate lead-based paint
After finding a house you can afford, you have to sign the purchase agreement to move forward with the VA loan. The purchase agreement stipulates home purchase terms between you and the seller as a legally binding contract.
Once you sign this document, it will ascertain that you want to buy a particular property.
Lender Processes Your Application and Orders a VA Appraisal
You'll need the purchase agreement to finalize your VA loan application. Once the lender obtains the document, they will schedule a VA appraisal to evaluate whether the property is fit for VA financing. Only a VA-certified professional can undertake the appraisal.
The professional will ensure that the buying price you chose corresponds with the home's current value during the appraisal. They will also inspect the home to ensure that it meets the minimum property requirements set by the VA.
As you await the appraisal documents, you need to submit any paperwork needed by the lender to be approved for the loan.
The loan underwriter will approve your loan after the property passes the appraisal and your eligibility is verified. The Veteran Affairs allows certified appraisers to take up to 10 days when carrying out the appraisal.
Close on the VA Loan and Gain Homeownership
Once the underwriter approves your VA loan, closing and moving into your new house is the final step. The closing process allows the seller to transfer the property to you legally. Expect to sign documents confirming that you understand and agree to the loan terms.
You have to give proof of homeownership insurance and settle the closing cost for the process to be complete. Closing costs vary based on your loan details and the type of home chosen. The seller can settle a portion of the closing fee or all of it.
Post-Purchase: VA Loan Servicing
The US Department of Veterans Affairs considers a servicer a private mortgage firm that collects payments for a debt you incurred when buying a home. Servicers should service VA home loans to high standards as they would when dealing with conventional loans.
They should identify a suitable approach to fit your financial circumstances and comply with all applicable federal, state, and local laws on VA loans.
The mortgage servicer will process your loan payments, respond to your concerns and track principal or interest paid.
They will also manage your escrow account and send you mortgage statements. It's common for the servicer to be a company that did or did not originate your VA loan.
Check your monthly mortgage payment coupon book or statement to identify your loan servicer. The website will require you to give the VA Case Number, property address, your name and mortgage identification number.
You can also check the Mortgage Electronic Registration System for the details if you can't find a coupon or statement.
Servicers must submit electronic data on the status of VA loans under their portfolio to the VA Loan Electronic Reporting Interface.
They should also resolve any existing concerns with borrowers to prevent disputes. You can also contact your nearest VA Regional Loan Center for guidance and counseling on your home loan situation.
VA Loan Management
The VA will initiate contact with you to give financial counseling and discuss loss mitigation steps if they decide that action on your loan is needed. They may also act as an intermediary between you and your loan servicer to reach a resolution.
The VA will help you and the servicer arrange loss mitigation options, including:
Special forbearance (which temporarily suspends payments to allow you to reinstate the VA loan or sell the home).

Repayment Plan (in which you make regular payments plus a portion of the delinquency over a period of time).

Loan modification (to establish a new payment schedule). Refunding (to modify the loan and make monthly payments affordable).

Deed-in-Lieu of Foreclosure (where you deed the home to the servicer to prevent foreclosure).

Compromise sale or short sale (in which you sell the home for less than its market value with the VA paying the loan difference).
Escrow Accounts
Your lender will set up an escrow account to pay various property-related costs. The servicer can also establish or control the version on your behalf to pay insurance premiums, taxes, and other applicable charges.
An escrow account can also serve as an impound account, reserve account, or trust account, depending on the situation at hand.
Your loan servicer will run an escrow account analysis to determine the target balances and calculate your monthly payments for an upcoming escrow account.
The analysis also helps identify deficiencies, surpluses, and shortages. Escrow accounts usually include agreements that allow services to add part of your payments to the principal and deduct from the principal escrow account disbursements.
When creating an escrow account, the servicer must carry out an escrow analysis to calculate the total amount you need to deposit on the account. They should also serve you an escrow account statement once they complete the analysis.
Expect them to run subsequent account analyses at the end of every computation year to calculate your monthly escrow account payments for the next year.
Summing up
A VA home loan is undeniably an attractive option if you served or are serving in the National Guard, Military or Reserve when buying a home.
Since they require little to no down payment, they can ease the homeownership process for you. It's important to understand the loan requirements, key terms used by lenders, and the loan processing steps before shopping for the loan.
Your financial situation will determine the kind of VA loan and the amount you can take. Though the VA guarantees the loan, lenders have the freedom to set their requirements. Only deal with a lender whose terms fit your situation to get the most out of the home buying process.
Choose Your County for More Zero Down VA Loan Information