Family Living Near the Florida Beaches: The Best FL Has to Offer
Phil Ganz
/
8 Min Read
/
Jun 03, 2022
We've always been told that location is vital to doing well in business. We often forget that location is essential if we wish to live a good life. Hundreds of thousands of people move homes each year across the United States, ranging from those simply moving across town to those relocating clear across the country.
(Mar 31, 2023)
One of the most popular destinations for movers seeking a change in their living circumstances is the State of Florida. Whether you're single, married, working, or retired, the Sunshine State has plenty to offer you. With its endless shoreline, you can be sure that there will be a location that suits you and your loved ones perfectly, as long as you're willing to look closely.
Let's look at some of the most popular destination towns and cities that allow you to set up your home near the beach, examining their characteristics and prominent features to glimpse the possibilities that Florida makes possible.
The City of Destin
Destin, Florida, is located on the peninsula between Choctawhatchee Bay and the Gulf of Mexico and is located in Okaloosa County. While it started as a fishing village in the late 1840s and continues its maritime tradition, it is now a renowned tourist destination. You'll find an eclectic mix of cultures and peoples here, contributing to the city's reputation as a welcoming home for people from all over the North Americas. The city hosts approximately 20,00 people, making it an excellent place for those looking for a medium-sized, spacious city by the beach.
Parents will be happy to know that the Okaloosa County School District is renowned for top-flight performance in the State of Florida. While most employment is in the hotel and hospitality industries, there's still plenty of activity in downtown Destin. You'll enjoy the yearly Destin Fishing Rodeo, the Destin Seafood Festival, and more spectacular attractions.
The City of Key West
Back in the 1830s, Key West was the wealthiest city per capita in the United States. Even though the Southernmost City in the Continental United States has come down somewhat in those rankings, it still retains plenty of charm and elegance for its native and potential residents. It lies in Monroe County and comprises a conglomeration of various islands off the south coast of Florida. The city has a rich history spanning through the Ten Years' War, the 1846 Havana Hurricane, the Cuban Missile Crisis, etc. You will find few cities in the U.S. with more cultural significance and diversity.
According to the 2020 census, 26,644 people were living in the city, spread out across the entire island, which enjoys Florida's Caribbean-like subtropical climate all year round. The Monroe County School District operates schooling in the city, and working life revolves around the hospitality industry and the various military bases and installations that dot the islands. For high culture, you can't go wrong with a visit to the Harry S. Truman Little White House, the Ernest Hemingway House, the Key West Historic District, the Tennessee Williams House, etc.
Islamorada Village
One of the cozier places to live to set up your house and home on the Florida Keys waters is Islamorada, an incorporated village of five islands stretching down from Miami to Key West. The name means Purple Island in Spanish and is the permanent address for approximately 8,000 people. The village of islands earned itself the informal tag of The Sportfishing Capital of the World because of its location in the middle of the migration routes of numerous large species of fish, which brings in considerable tourist numbers.
The Monroe County School District runs the schools here, and the fact that it is only a one-and-a-half hours drive from Miami makes excellent higher-education options available to residents of the islands.
The City of Bonita Springs
Bonita Springs is another captivating waterside city in Florida whose name translates to Beautiful in Spanish. It is located in Lee County. The city of 53,644 residents manages to live up to its name, with attractions such as Bonita Beach Park, Barefoot Beach Preserve Park, Lovers' Key State Park, and keeping the tourism sector lively.
The Lee County School District manages the schools in the city, making sure residents get a top-flight education commensurate with Florida's high standards. Despite its commercial tourism interests, Bonita Springs prides itself on its homely settings, making it an ideal place to settle down and start a home near the water.
Sarasota City
Another metropolitan city in Florida offering an exciting option for people hoping to live, work, and play near the ocean waters off the coast is Sarasota City, a city with a population of approximately 60,000 that enjoys a humid, sub-tropical climate that closely resembles a tropical clime. The city relies heavily on tourism to drive its economy, although plenty of work is available in finance, education, technology, and health.
The city's cultural scene is a vibrant one, amply facilitated by the city's various performance venues and attractions such as the Florida State University Center for the Performing Arts, the John & Mable Ringling Museum of Arts, Van Wezel Performing Arts Hall, Asolo Repertory Theater, Urbanite Theater, and many more.
You're welcome to enjoy some of their exhilarating yearly festivals, including the Harvey Milk Festival, Sarasota Chalk Festival, Ringling International Arts Festival, Sarasota Improv Festival, etc.
You can gain an excellent education here from institutions such as Keiser University, New College of Florida, Ringling College of Art and Design, East-West College of Natural Design, and quality public schools run by the Sarasota County Public Schools District. When you're not at work, at school, or relaxing at home, you can participate in sailing, sports fishing, run a marathon or two, play some golf, or watch a game at one of their premier stadiums.
Apalachicola City
For those looking for a place to set up a home that places them near the ocean water without breaking the bank, then Apalachicola City is the place to be. This is a city of approximately 3,000 people and is the county seat of Franklin County. Residents here enjoy an excellent quality of life in idyllic, hassle-free settings that boast some of the lowest crime rates in the State and miles of natural, pristine beaches.
While the economic opportunities here might not be bountiful, the city more than makes up for this in its safety, coziness, and beauty. This should be a great place to settle down if you work in the hospitality industry and hope for a quiet, enchanting place to raise your family.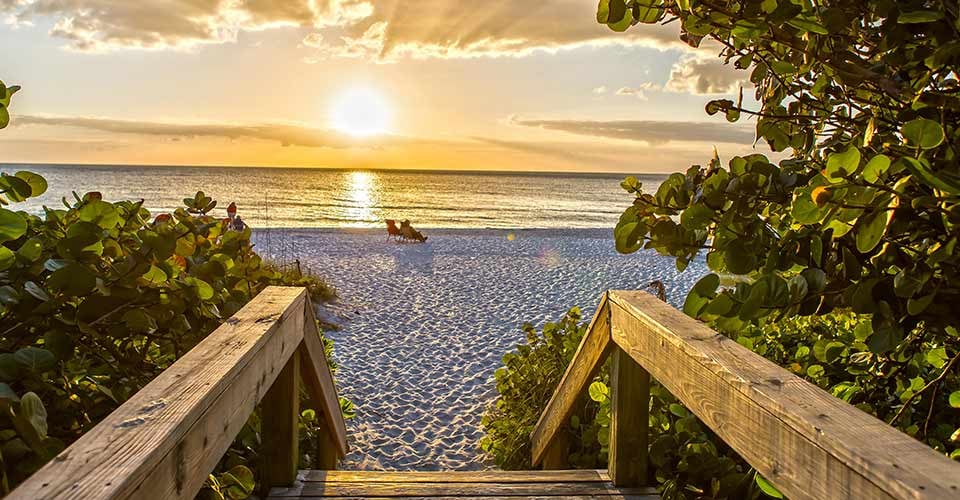 Deerfield Beach City
Deerfield Beach is another excellent pocket-friendly option to add to this list. The city, which earned its name from the large deer population that used to roam there before humans came in, hosts 85,000 people today.
The city is in Broward County, which is a great school district with plenty of opportunities for family fun, such as movie theaters, surfing beaches, swimming pools, water parks, and other attractions such as Quiet Waters Park, Planet Air Sports, Deerfield Beach Island, Deerfield Beach Arboretum, and many more.
The City of Miami
No conversation about waterside living in Florida, or the United States, would be complete without mentioning the City of Miami. Located in Miami-Dade County, the city of approximately 500,000 people is the second-largest in the State and boasts the third-largest skyline in the United States, with over 300 high-rise skyscrapers.
Miami is among the country's leading lights in human capital, business activity, cultural experience, political engagement, and information exchange. This might make you wonder whether it would be ideal to live, work, and raise a family, but the answer is a resounding yes!
There are plenty of residential zones splitting greater Miami into four sectors: the Downtown, North, South, and West areas. Professionals, trade workers, and people in the service industry will have no shortage of employment opportunities in Miami, as it is an international commerce hub and a world-renowned tourist destination.
There are multiple multinational corporations with their headquarters here, including Alienware, Brightstar Corporation, Royal Caribbean International, Telemundo, Celebrity Cruises, World Fuel Services, Southern Wines and Spirits, and many more that require diverse skill sets.
Living here will be a great cultural experience for young and old Miami residents, as its cultural landscape is heavily influenced by its richly diverse ethnic constitution. Notable museums located here include the Frost Museum of Science, Miami Children's Museum, etc.
Residents and visitors from all over the world converge on the city to enjoy annual festivals and attractions such as the Miami International Film Festival, Miami Fashion Week, and the Calle Ocho Festival held in prestigious venues including the Fair Expo Center, Olympia Theater, Bayfront Park Amphitheater, and the Adrienne Arsht Center of the Performing Arts.
Young residents will enjoy some of the finest educational facilities available in the United States, as the Miami-Dade County Public School District, which is the largest in Florida, features some of the best-performing learning institutions in the country, including Florida International University, the University of Miami, Broward College, the Design and Architecture High School, Coral Reef High School, MAST Academy, and many more.
If you're looking for the total Florida experience in one place, then Miami is the place for you. Whether you're looking for a fast-paced experience or a more subdued way of life, you'll find it all in Miami.
Pompano Beach City
Another excellent family living location in Broward County is Pompano Beach City, which forms a part of the Atlantic Intracoastal Waterway. The city, which has approximately 115,000 residents, is named after the Florida Pompano, a plentiful type of fish in its waters.
Should you hope to live a middle-income life in Florida, just a short drive away from the beaches, you will find the multicultural city of Pompano to be a great option. The city's economy mainly relies on tourism. Its leading employers include Pompano Park, the City of Pompano, Walmart, and Publix, meaning that employees of various professions will find viable employment opportunities.
Your children won't be left behind here either, as the Broward County Public School system is rated highly in the State. While visitors will have to leave eventually, residents enjoy a variety of permanent cultural attractions, including the Pompano Beach Historical Museum, Meridian Gallery, Curtain Call Playhouse, and so on.
Annual festivals and open events include the Pompano Beach Seafood Festival, St. Coleman's Italian Festival, St. Patrick's Irish Festival, and The Annual Nautical Flea Market, among many others.
Gulf Breeze Town
People looking for a coastal living environment far removed from the crime, congestion, and hassle of larger cities make for a perfect option. Santa Rosa County plays host to the city of Gulf Breeze, which a little over 7,000 people inhabit. It's well-known for its white sandy beaches and al-year fishing opportunities.
Families here enjoy a degree of freedom that is rarely matched anywhere, as the city is bordered by water on three sides, meaning that whichever direction you choose to move, you are heading to a nearby beach.
Younger residents are served by several excellent schools, including Gulf Breeze High School, Gulf Breeze Middle School, Woodland Beach Middle School, and Oriole Beach Elementary School.
The City of Boca Raton
Boca Raton is one of the most well-known cities in Florida due to its rich cultural significance and relevance to Florida's modern-day welfare. Although its official number of residents stands at 100,000, over twice this number hold residential postal addresses but live outside the city's municipal boundaries, only coming into the city for work, entertainment, and education.
What started as a resort town is now a combination tourist hot-spot and commercial center, with plenty of room for residential areas for people of all economic classes. Top employers here include the Boca Raton Regional Hospital, Florida Atlantic University, Office Depot, and The City of Boca Raton.
Even though the city is famed for its educated, affluent social community, many options are available for middle-income homeowners and renters. Residents here will enjoy some of the lowest crime rates in the State, as Boca Raton experiences a 38% lower crime rate than Florida. Culturally, the city hosts several famous yearly festivals and events such as the Festival of the Arts BOCA, Boca Raton Bowl, Brazilian Beat Festival, and the St. Mark Greek Orthodox Church Greek Festival.
Education in the city is managed by The School District of Palm Beach County. It covers notable private, public, and religious schools, including Pine Crest School, Harid Conservatory, Saint Andrew's School, Boca Raton Community High School, Spanish River Community High School, Pope John Paul II High School, and many more. Higher education options include Florida Atlantic University, Lynn University, Palm Beach State College, and Everglades University.
Fernandina Beach Town
Towards the northernmost point of Florida's Atlantic coast lies Nassau County, whose county seat is Fernandina Beach. What's known as the 'Isle of 8 Flags' was ruled over by numerous countries throughout its history, making it one of the most richly diverse cities in Florida.
The city is currently home to over 12,000 inhabitants. It features a variety of cultural and social attractions, including the Isle of Eight Flags Shrimp Festival, Original Town of Fernandina Historic Site, Fort Clinch State Park, and all the surfing, fishing, and watersports your heart may desire.
You won't have any problems ensuring your children are appropriately educated here, as the city lies within the purview of the high-performing Nassau County School District, featuring excellent schools that include Amelia Island Montessori School, St. Michael Academy, Fernandina Beach Christian Academy, Fernandina Beach High School, and more.
Final Thoughts
According to United States census reports, Florida is one of the most popular destinations for people seeking a change in their living situation, experiencing a higher influx of people moving in from other states than any other.
If you're on the lookout for a change of pace, you should definitely look at Florida. The State boasts cities and towns with numerous and varied economic mainstays, strong school districts, excellent overall infrastructure, breathtaking scenery, exhilarating cultural diversity, ample employment opportunities, temperate all-year climate, and the overall space and geniality to welcome all newcomers. Best of luck!