The Best Ways to Get a Mortgage in Jacksonville, Florida
Phil Ganz
/
8 Min Read
/
May 09, 2022
Welcome to Jacksonville! The biggest city in Florida and home to almost a million people, Jacksonville is a fast-growing city with a diverse population. If you're interested in buying property here, you've come to the right place—but it's essential to learn what you can expect from the city's mortgage market before you begin your search.
(Mar 26, 2023)
Why Get a Mortgage in Jacksonville, Florida?
Jacksonville has something for everyone, from the sparkling beaches to the lively downtown. While Jacksonville is known as one of the most affordable cities in Florida, there are still plenty of things to do without spending a dime.
On any given day, you can enjoy a walk on the beach or picnic in one of the town's many parks and playgrounds. There's no better place to be with warm weather year-round than Jacksonville!
Over 40 quality school districts serve nearly 500 schools in Jacksonville. This is more than enough choice for families looking for their perfect match in everything in the city.
The city's growing economy has made it one of the best places for young professionals to start their careers.
In addition to solid job growth, there are plenty of ways for families with children to have fun in Jacksonville, including zoos, museums, and more!
Are you thinking of making a move to the Jacksonville area?
Is it better to visit a local bank for a mortgage in Jacksonville?
It is always better to visit a local bank for your financial needs. You can build rapport with the lender and will have a personal relationship with them.
The lender will also be able to answer all your questions about getting a mortgage quickly and efficiently.
What is the fastest way to qualifying for a mortgage in Jacksonville?
The best and fastest way to qualify for a mortgage is by having all your paperwork in order. You can get pre-approved by the lender, and while this doesn't guarantee you will get the loan, it will make it much easier to find the right house.
How easy is it to get a mortgage in Jacksonville, Florida?
The ease of getting a mortgage depends on your income level, credit score, and how much of a down payment you have.
It also depends on whether you buy an existing home or build new construction. Getting a loan may not be as straightforward as purchasing an existing home if you are building new.
How long will I wait for a mortgage in Jacksonville, Florida?
In Florida, the average wait time to obtain a mortgage after applying is 30 days.
The higher wait times in Florida are because of the number of people who want to live along the coast. It's just one of those things that come with living in a tropical paradise.
If you are looking to purchase a home there, it's always good to give yourself some extra time, so you don't get stuck in a situation where you have to hurriedly apply just because you need to close on your house soon.
Are Jacksonville mortgage credit unions better than banks?
There are many benefits to getting your mortgage through a credit union rather than a bank. Credit unions are typically more flexible and less strict in their requirements for their rates and terms.
They also tend to be faster at approving mortgages than banks and offer comparable rates. However, if you consider using one as your lender, make sure that you do your research first because some do not offer all types of loans, such as FHA and VA mortgages.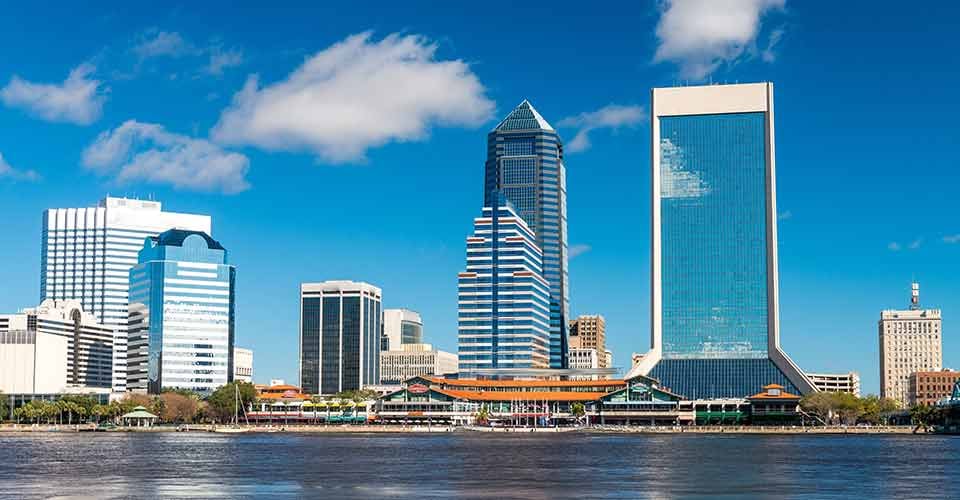 Tips to Get the Best Mortgage in Jacksonville, Florida
Do you need to find a home loan with a better rate and more favorable terms? Here are some things to consider when during your search:
Shop around locally. You can quickly get an idea of the market by looking at local rates online. Most banks have a page devoted to their current mortgage rates, and you can usually find this by searching the term "mortgage rates."
Take the average of what you find, and you'll have a starting point for your shopping. If a bank offers you a rate lower than your estimated average, it may be worth investigating further.
Explain that you're shopping around for the best interest rate when speaking with representatives from various banks or credit unions.
There's no need to pretend that you don't know what numbers are acceptable—this will help them take you more seriously as they make an offer that could convince you to close with them on your loan.
Get pre-approval before shopping
One of the best things you can do when shopping for a house is to get pre-approved before you start looking. It demonstrates to sellers that you're a serious buyer, but it's also a great way to figure out how much house you can comfortably afford.
Pre-approval happens when your lender gives you an official determination of how much they will let you borrow without requiring full underwriting and approval. You'll have to supply some documentation, but it usually happens over the phone or online and doesn't take long.
A loan officer will review your finances (usually with verification through an automated system) and let you know what amount they are confident in lending to you based on assessing your credit score, debt load, and income stability.
Pre-approval is different from pre-qualification, which is even faster (because there's no verification). Pre-qualification isn't as helpful because there are no guarantees from the bank. They aren't committing to giving out any particular loan if they haven't done any verification first.
Instead of getting pre-qualified, we recommend getting fully pre-approved before starting your home search because that demonstrates that you're more likely to get financing for whatever home comes along.
Be prepared to make a 20 % down payment
It would help if you didn't take out a mortgage unless you're confident that you can pay it back. One of the best ways to ensure your financial safety is to make a down payment on your home.
A down payment is a portion of the purchase price of your home that you pay upfront to lower the amount you need to borrow.
Generally speaking, the more money you put down on the house, the less likely you will default on the loan and hurt your credit score.
It's generally recommended that you make at least 20% down on any mortgage loan. If you don't have enough money for at least 20%, then it may not be wise to take out a loan for the house just yet. Instead, consider looking for another option with a lower price tag or saving up until you have enough money.
No legal requirement says how much money should go toward a down payment. But experts recommend putting as much as possible toward it because it reduces your monthly payments and helps save interest over time. If possible, try paying more than 20%.
Is paying an adequate amount of cash upfront impossible (and borrowing from family members is also infeasible)? Consider using other sources like non-profit organizations and government agencies might be helpful options for reduced interests.
Understand other types of mortgages besides fixed-rate mortgages
With these mortgages, the interest rate can go up or down depending on market conditions.
If interest rates go down after taking out the loan, your monthly payments will also go down. The opposite is true - your payments will rise if interest rates rise.
In general, this type of mortgage starts with a lower interest rate than fixed-rate mortgages. But you'll need to be able to absorb any potential cost increases in case rates go up significantly.
A VA loan is a mortgage loan guaranteed by the US Department of Veterans Affairs. It's available only to military service members and their spouses.
The VA guarantees a portion of the loan, enabling approved lenders like banks and mortgage companies to offer better deals.
In some cases, borrowers can obtain loans with a 0% down payment and no private mortgage insurance requirement.
Some advantages of these loans include less-stringent credit requirements and low or no closing costs or fees. However, there are also some trade-offs regarding interest rates and restrictions on who can qualify for them.
These loans are backed by the US Department of Agriculture (USDA). They're available to anyone who meets specific income requirements regardless of whether they live in a rural area.
Also called Section 502 loans, borrowers don't need to be first-time homebuyers, but income limits vary from state to state based on the household size and property location (urban vs. rural).
Another advantage is that there's no minimum credit score requirement, although most lenders prefer a score over 640 for USDA approvals.
Borrowers will generally need at least two years of work history if self-employed or commissioned, including contract work, before applying for this loan product.
You may also want to consider a reverse mortgage if you're over 62 years old and want to stay in your home without making monthly mortgage payments.
With a reverse mortgage, you get a lump sum or small monthly payments based on the value of your home in exchange for paying back these funds when you leave or sell your house.
There is no monthly payment required with this type of mortgage, though fees and closing costs are involved.
Federal Housing Administration (FHA) loans are designed for low-to-moderate income borrowers who cannot make a sizeable down payment.
You can put as little as 3.5% down with an FHA loan, which is excellent for people who don't have much cash saved up. It's also easier for people with lower credit scores to qualify for FHA loans, although the minimum credit score varies from lender to lender.
The downside is that borrowers must pay mortgage insurance premiums on these loans, which raises the cost over the life of the loan.
Find the right down payment amount
Getting the right down payment amount is a threefold process:
Choosing the home you want to live in.

Understanding your financial situation and options.

Closing on the mortgage, you're most comfortable with.
First, choose a home that meets your needs within your budget. Next, understand what type of mortgage will fit your circumstances and preferences. You can get an FHA loan or conventional financing or choose a VA or USDA loan.
Be sure that you're prepared financially for all of these options before making a final decision. If a 15-year fixed-rate mortgage is right for you, this will also impact your down payment amount.
Make sure that you're looking at interest rates from several different lenders as well—this will play into how much money you need upfront to buy the house.
Get your credit rating in shape ahead of time
If you're planning to apply for a mortgage shortly, now is to get your credit rating in shape. Since factors like your credit utilization and mix of credit types are included in your score, it can take a while to get these things into good standing if they aren't already.
As soon as possible, check your credit rating with one of the three major credit reporting agencies. TransUnion, Equifax, or Experian.
While checking what's on there, note that you need a score above 700 to have excellent or good standing with most home loans.
If you're below it at all, start making changes and improving it so you can apply for a home loan as soon as possible.
Once you've got this initial step done, consider getting rid of some of that pesky debt from cards with high APRs (annual percentage rates) and stop adding new debt to those accounts by decreasing spending on them as much as possible.
And since late payments also count against your report negatively, try not to miss any payments—or immediately make all past due ones- to put yourself back on track!
It's also important to limit how often new lines of credit are opened before applying for a mortgage loan—so avoid taking out any new loans or opening other accounts (like cell phone contracts) until after closing on the house.
Finally, don't close unused lines of credit; keeping them open over time will help raise your score rather than lower it!
Have a plan for paying off your mortgage early
Once you have your mortgage, it's essential to plan to pay it off. In addition to the fact that a mortgage is likely to be the most significant debt you'll ever take on in your life, there are several reasons why an early payoff can be advantageous.
Paying extra will save you money in interest, improve your credit score over time, and allow more flexibility if other unexpected expenses arise.
There are numerous methods for paying off your mortgage early. If you're paid monthly and don't want to change how often you make payments, consider adding the same amount as half of your standard payment. For example, if you pay $1,000 per month now and have a 15-year mortgage, try adding an extra $500 each month).
You could also pay biweekly instead of monthly. Even though this is only one additional payment per year, splitting each of your payments into two halves decreases the total amount of interest paid overtime. Half as many days elapse between payments (less time accumulating interest).
Suppose an additional bi-weekly payment isn't feasible at first but is something you'd like to build up to overtime. In that case, start with making one extra payment per year rather than 26. Gradually increase that number until you're making 13 additional payments annually.
Lastly—and perhaps most straightforwardly—you may wish to add a set dollar amount or percentage of your existing loan balance towards the principal.
Some lenders may give borrowers this option at no cost, while others will tack on fees ranging from zero dollars up to approximately $50 per transaction.
Getting the best mortgage in Jacksonville requires in-depth research
You'll want to make sure that you know exactly what you're getting into before you commit to a mortgage. This means doing the research, being prepared for the process, and understanding what you agree to.
Research mortgages. If this is your first time buying a house or getting a mortgage, you likely have many questions (or will have them soon). It would help if you did as much research as possible by talking to people in the industry and reading up on things yourself.
A respected real estate agent can be an invaluable resource in this area, but so can browsing websites where they have helpful articles explaining every aspect of homeownership, from applying for a loan to signing closing documents and more.