Understanding Hialeah Florida Mortgage Loan Rates
Phil Ganz
/
8 Min Read
/
May 07, 2022
Did you know that Hialeah is the sixth-largest city in Florida, with an area of 20 square miles? The city also has the second-highest population of Cuban and Cuban American residents in the US. Hialeah lies in southeast Florida as part of Miami-Dade County. As a dynamic, family-friendly community, Hialeah is dominated by traditions and cultural heritage. The community is also a mixture of cultures and nationalities with ethnically diverse residents.
(Mar 26, 2023)
Before considering Hialeah, FL, you have to know the factors that make it appealing in your top places to move in. Consider amenities, demographics, home market, and mortgage interest rates.
Hialeah, FL, has many exciting things to offer for anyone planning to buy a home. Here's a breakdown of everything you need to know about Hialeah's attractions, home market, and mortgage loan rates:
What Makes Hialeah an Attractive Place to Live in?
When planning to move to a new city, you'd want one with a strong community filled with inclusive opportunities and innovations. The city would also be more appealing if its climate is conducive to good health and favorable living costs. If your choice is Hialeah, FL, here are some of the things that make the city appealing to a homebuyer:
A Walkable City
Hialeah offers tranquil streets and great proximity to nature, and open spaces for home buyers interested in a walkable city. You can also enjoy rides to your favorite weekend hangout without worrying about traffic.
Hialeah has a walk score of 73, a bike score of 54, and a transit score of 39, making it a walkable city. Most of the city's amenities are accessible, and errands can be done on foot. If you own an electric vehicle, there's one charging station in the area with four level-2 charging points.
MDC rail is the primary public transit system for residents in Hialeah. Consequently, Miami International Airport is the city's closest airport. You can use the FL-826 freeway for cruising around Hialeah seamlessly.
Low Unemployment Rates
Hialeah boasts a slightly lower unemployment rate (4 percent) than the national average (5 percent). You are most likely to get a job as an elementary school teacher, office manager or retail store manager when living in Hialeah. Residents in the city also have an average annual salary of $31,000, close to the country's average.
Hialeah was known for its diverse clothing and manufacturing industries as a historic industrial town. With the evolution in the economy, factories diversified into other products. The Miami-Dade County Public Schools and Telemundo are the largest employers in the area.
The city's economy is marked by small shops operated by couples, which are more popular than name-brand retailers. These mom-and-pop stores greatly understand and meet the community's needs and want. Hialeah is also a host to national retailers like Best Buy, Target, Starbucks, and Home Depot.
Favorable Housing Market
Hialeah's average rent price is $1,050, while the average home price stands at $163,600. The city's homeownership rate is also 46 percent, with the other homes being classified as rentals. Most homeowners purchase homes through loans due to the affordable mortgage loan rates and attractive home prices.
The most appealing neighborhoods in Hialeah include Aventura, Coral Gables, Pinecrest, and Surfside. Others include Sunny Isles Beach, Miami Shores, and Weston.
It will cost you $1,260 to rent a two-bedroom apartment and $950 to rent a one-bedroom apartment for one month. The monthly rent for three, four, and five-bedroom apartments is $1,575, $1,900 and $2,450.
One-bedroom apartments have a mean purchase price of $156,00, while two-bedroom apartments go for $194 800. Mean prices for apartments with three bedrooms, four bedrooms, and five bedrooms are $250, 300, $288,250, and $331,900.
A Recreational Hub
It was common for visitors to overlook Hialeah in favor of Miami in the past. However, more people are beginning to appreciate that Hialeah is one of the oldest and most culturally-diverse cities in South Florida.
The city had a booming aviation and cattle farming industry back in the day, seen in places like Amelia Earhart Park. As one of the greenest spaces in Hialeah, Amelia Earhart Park is filled with a soccer field, biking trails, and a petting zoo. You also enjoy the tree fort and pony pink in the park when looking for an adventure.
The city boasts a distinct and vibrant art scene with must-visit art centers like the Leah Arts District. Leah Arts feature breathtaking, colorful murals, an ode to local artists.
Mortgage Loan Rates in Hialeah, Florida
Factors such as the city's economic health and borrowers' credit history determine mortgage rates in Hialeah. Your home loan rates may also depend on how you plan to occupy the home and the loan size compared to the home value.
Like other loans, the Federal Reserve tries to maintain a stable inflation rate with mortgages. The reserve uses the federal funds rate to decide a convenient rate for banks looking to borrow money from each other. As they control the amount borrowed by banks, the Federal Reserve controls the money supply.
Loans can be cheaper to borrow in a market with low short-term interest rates. In this case, the money supply in the market will increase, and prices will go up. Higher interest rates translate to less money supply and lower prices.
Hialeah Mortgage Rates
30-year fixed mortgages come with an interest rate of 4.92 percent. Consequently, 15-year fixed home loans attract an interest rate of 4.22 percent for a 5/1 ARM.
Mortgage lenders in Hialeah, FL, use different tools and consider other factors when determining mortgage rates. It's therefore essential to read the fine print and be aware of deceptively advertised mortgage rates.
It's common for most online lenders to compel borrowers into getting mortgages by advertising lower rates. The problem with these rates is that they are based on relatively low loan-to-value ratios and require you to pay multiple discount points. It won't be wise to get a mortgage using this route since recuperating the discount points with interest rates will be costly.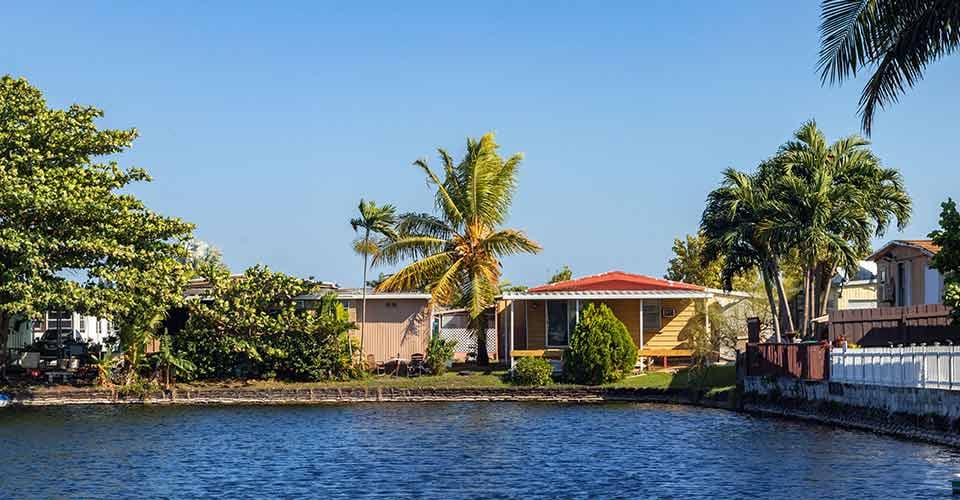 Qualifying for a Mortgage in Hialeah Florida
Since it can be pretty challenging to get a mortgage in Hialeah, FL, it's essential to understand the city's home loan process. Gone are when lenders only checked your credit score to approve you for a loan. Here are some of the things to look out for when seeking a mortgage in Hialeah:
Loan Amount
Lenders can approve you for different loan amounts depending on your financial situation. A lender can qualify you for a more considerable sum than what you can pay on the loan. After deciding your loan amount, the lender will give you a figure based on your credit score and history, income stream, and home value.
Once you know how much you qualify for, working your way to a loan you're comfortable paying can be more manageable. You should discuss your budget and debt management plan with a potential lender to get the most out of the loan. Only accept a loan amount if the terms are favorable to you.
Property Type
Consider the type of home you want to purchase when getting pre-approved for a mortgage. Different types of residential properties attract different kinds of rates and loan amounts.
If the home is your primary residence, the lender's loan terms will be more favorable. That's because you will be living on the property most of the time. It's also less risky for a mortgage lender to give you a loan on a home that you consider a primary residence compared to one that is a secondary property.
If you're considering a government-backed home loan, the home you plan to purchase must be your primary residence. You will have to meet high credit requirements and debt standards and pay high down payments for a secondary property. Secondary properties are riskier for mortgage financing than primary residences.
Debt-to-Income Ratio
Private mortgage lenders put a massive emphasis on borrowers' debt-to-income ratios (DTI). They use this figure to determine the percentage of income directed to your monthly bills or debts. Add up all your monthly financial commitments and divide them with your gross income to find your DTI ratio.
Most lenders require you to have a DTI ratio of 50 percent or less to approve you for any type of loan. It's also common for mortgage lenders to consider both housing expense ratio and DTI ratio when determining your home loan qualification. A lower DTI ratio attracts more favorable mortgage terms, while a higher DTI ratio attracts less favorable terms.
Borrowing credit will only affect your credit score instead of your DTI ratio. Sticking to a sustainable budget, paying off your debts, and adopting a smart saving plan can help fix a poor DTI ratio.
Credit Score
Depending on your credit score, you can choose between two types of home loans. A lower credit score will attract a loan with a high-interest rate and a higher down payment. On the other hand, a higher credit score draws less strict terms on your loan.
Expect your lender to make a hard inquiry on your credit from three of the country's credit bureaus. The report gathered from these bureaus will help them choose a convenient loan type for you. It will also help them decide whether you qualify to be their client.
Practices such as paying your debts in time and disputing credit report mistakes can help raise your credit score. You should also minimize your credit card statement balance and pay bills on time to boost your credit.
Proof of Assets
The lender will ask for your investment account statements and bank statements to prove that you have sufficient funds needed for a down payment and closing costs. A down payment is usually a percentage of the home's selling price.
Private lenders consider any cash you have on hand, money market accounts, and certificates of deposit as proof of assets. They also look at your savings or checking accounts to determine whether you can afford the mortgage.
Employment
It would help if you had a stable job or employment to prove to lenders that you can afford a home loan. The lender may require your employer's contact information to verify your employment status and salary. They may also go through your income and business statements if you are running a business before approving you for a loan.
If you're self-employed, your business must generate adequate income to attract a favorable lender. You also need at least two years of your business tax returns to verify your income.
When verifying your employment status, lenders only need verbal communication from your employer. If your employer refuses to verify your employment status, inquire from them if they are acting from a legal standpoint. If this is the case, find a lender willing to abide by your employer's policies on disclosing employee information.
Buying a Home in Hialeah, Florida
Hialeah boasts a median home price of $385,002 and a median square foot price of $254, making it a relatively affordable place to buy a home. The city records 217 new listings and 151 homes sold every month. With many residential properties sold, Hialeah seems an excellent place to buy a home.
If it's your first-time house hunting, the process can be tiresome and costly since it involves numerous requirements, tasks, and steps. However, you enjoy some special advantages suited for new homebuyers in the Florida real estate market.
The 28/36 percent rule should be your guide if you're unsure how much you should spend on housing. With this rule, up to 28 percent of your total income should finance a home, and up to 36 percent of your income should finance your debts. Debt, here, includes mortgage payments and other loan payments.
Consider using a home loan calculator to calculate a fair loan amount. Most online mortgage calculators allow you to input the down payment, loan length, and interest rate to give you principal and interest estimates. They can also estimate property taxes, homeowners association fees, and homeowners insurance.
Determine your monthly mortgage payment as you come up with a budget for your new home. Taking a 30-year-fixed-rate home loan for a fixed budget will be a good idea. On the other hand, if your budget is flexible, a 15-year-fixed-rate home loan will do since it can help minimize the interest paid.
Options for finding homes in Hialeah include home listings, for-sale signs placed on homes, and references. You also need a real estate agent to help you narrow down homes with favorable prices and amenities.
Considering homes whose potential has yet to be reached is a good idea if you have a tight budget. Though most of these properties come with structural defects, they can save you money. You can repair or replace the defective parts over time while living in the house.
Secure Financing
Consider your home financing options as you narrow down your search for residential properties. If you're a first-time homebuyer, you can take advantage of FHA-backed mortgages. You may also look for homebuyer programs that require low-down payments.
Residents of states such as Ohio, Washington and Illinois can sign up for financial assistance on closing costs and down payments. Native American homebuyers benefit from applying for a Section 184 loan, which requires a 2.25 percent down payment. You can also withdraw a maximum of $10,000 from your IRA account to finance the home.
Summing up
Overall, Hialeah is a dynamic, family-friendly community with a unique blend of cultures and nationalities. The city is sustainable to live, play and work in, thanks to its numerous attractions and affordable cost of living. Finding a home in Hialeah is also less challenging with the diverse options available.
When buying a home in Hialeah, your mortgage rates will depend on your credit score and loan terms. Lenders also use your debt-to-income ratio to qualify you for a mortgage—all the best as you look to buy a home in Hialeah.